Yoga asanas to combat headache: Malaika Arora's trainer shares tips
Feb 02, 2023 03:04 PM IST
From Cat Cow Pose to Supta Virasana, here are three yoga asanas suggested by Sarvesh Shashi which can help in managing headaches.
Headache is a chronic problem faced by a lot of us. While the reasons can vary, headaches often happen due to the tension in the muscle groups near to the head, mostly the shoulders and the neck. With most of our jobs demanding us to look at the screens for the entire time, headaches are common to be felt during the day, or the time post working. Intense workload with the screen can lead to several other problems as well. Sarvesh Shashi, yoga trainer to several Bollywood celebrities such as Malaika Arora, discussed the reasons of headaches, and said that according to a report, there are around 300 types of headaches that happen. Cluster, tension, migraine and sinus are a few types of them.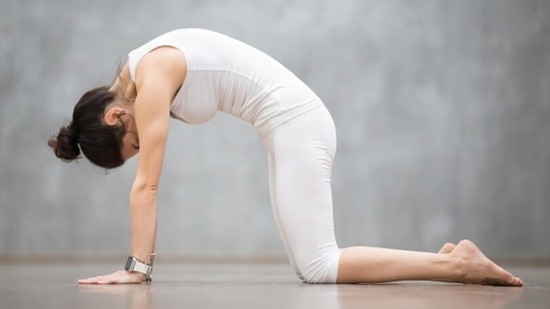 ALSO READ: Yoga asanas to combat high cholesterol levels: Expert shares tips
"One of the causes of headaches, which are the most prevalent issue, is having a lot of stress in the muscles in your neck and shoulders. Yoga can benefit those who suffer from headaches by providing additional alleviation, according to research," read an excerpt of his recent Instagram post. Sarvesh further shared three yoga asanas that can help in alleviating symptoms of headaches and keep us fit. Th asanas are, as follows:
Padangusthasana
Cat Cow Pose
Supta Virasana
These yoga asanas come with multiple health benefits. Padangusthasana, also known as Big Toe Pose, helps in relaxing the brain and relieving stress and anxiety. It also helps in stimulating liver and kidneys. Relieving symptoms of headache and insomnia are the other benefits of performing Padangusthasana. Cat Cow Pose, on the other hand, helps in creating emotional balance, thereby making the mind and the body calm. It also helps in strengthening the spine and the neck, and boosting posture and balance of the body. Supta Virasana, or the Reclining Hero Pose, helps in stretching the abdomen, thighs and deep hip flexors, knees, and ankles. It also helps in strengthening the arches, improving digestion and relieving the body of menstrual pain.