5 benefits of having pets for your child's development
Feb 02, 2023 02:51 PM IST
Having a pet at home can benefit your child in a number of ways from improved mental health, better immunity to increased activity levels.
If you have a kid and you are considering adopting a pet, it's probably not a bad idea. Kids connect instinctively with pets and there may be many reasons behind it. Your canine or feline friends love unconditionally and give all their attention to the little one making them feel special. Pets are the perfect companions for your kids and they are unlikely to feel lonely in their presence. Studies show that pets can reduce cortisol levels, combat loneliness, improve mood, and increase feelings of social support. Apart from mental health, there are also several physical health benefits for your child to have a pet at home from improved immunity to increased activity levels. The process of feeding and grooming a pet and taking them for walks will also help your child teach an important life skill - taking responsibility. From empathy and compassion to emotional intelligence, having a pet at home can also help mould your child into a kind human being. (Also read: Bonding with your pet: Fun activities to strengthen your relationship)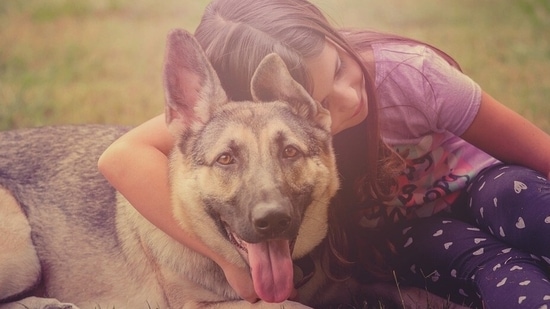 Dr Lalit Kenjale, Veterinary Officer, Wiggles talks to HT Digital about benefits of having pets for your child's development.
1. Improves immunity
Humans are constantly in contact with pathogenic microbes. The good news is that most infections do not harm humans because of the immune system. Children are more likely to get sick because they frequently play in groups, share food, and occasionally disregard hygiene standards. They thus get respiratory and gastrointestinal illnesses. However, if pets are present during a child's first year of life, it may help the latter develop a higher level of resistance to respiratory tract illnesses.
2. Provides companionship
Having a friend can be a huge blessing. Young children frequently want their parents nearby, regardless of what they are doing. Your youngster can enjoy the company of a dog as a pet, especially on days when you are unavailable. Additionally, kids without siblings will find a dog to be an ideal companion to engage in lively games of catch and fetch, tumble about in sandpits, or just run around the house. A cat on the contrary is a laid-back roommate who just wants to sit with you whether you are sitting, doing tasks or in the washroom. This is a great companionship for young kids where they learn the importance of company and coexist without much interaction.
3. Teaches responsibility
One of the most crucial lessons that all kids should learn is this. Children cannot, however, learn to be responsible overnight. The most exciting and enjoyable approach to teaching your child responsibility may be to bring home a dog and ask them to take care of it. Your child will learn to recognise and attend to the needs of others by helping with tasks like feeding and grooming the pet, bringing it for walks, and making sure it is comfortable at home. More importantly, this will enable him to interact with people more effectively and consider their needs.
4. Increases activity levels
Better physical and mental health has always been associated with an activity. Children should be physically active because it strengthens their bones and muscles and enhances their balance and fine motor abilities. Your child will probably become more physically fit if they have a dog at home because they will play and go on walks more frequently. Cats are creatures that need a lot of attention and playing with them is an energy-spending exercise that makes us feel a lot more active.
5. Improves emotional well-being
It's crucial to have the capacity to relate to others, comprehend their feelings, and offer support. It makes someone happier and more content. In the International Journal of Environmental Research and Public Health, Hawkins et al. released a study titled "Childhood Attachment to Pets: Associations between Pet Attachment, Attitudes to Animals, Compassion, and Humane Behaviour" (2017). "Encouraging children to participate in pet care behaviours may improve bonding between children and their pet, which in turn may have a range of favourable consequences for both children (reduced aggressiveness, higher well-being, and quality of life) and pets (humane treatment)," the researchers write.