Is your dog suffering from acid reflux? Tips to treat the condition
Published on Aug 09, 2022 08:11 PM IST
If your dog is losing appetite, burping, licking lips, showing discomfort while swallowing food or restlessness, you may suspect canine acid reflux.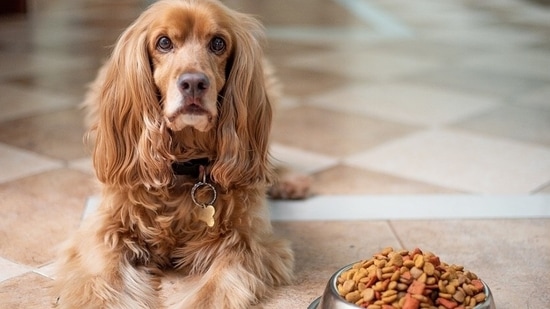 Monsoon brings myriad troubles for the health of humans as well as our adorable pets. Digestive issues are common in dogs too in this season and the pet parents must pay close attention if their furry friend is losing appetite, burping, licking their lips, showing discomfort while swallowing food or any kind of restlessness. Gastroesophageal reflux disease (GERD) is quite common in dogs, especially yonger ones. It is advisable to monitor their diet and get them checked for food allergies. (Also read: Can dogs have panic attack? Tips to calm your anxious dog)
"Does your dog make any burping or gurgling sound after eating? Or, the obvious one – your dog is vomiting and coughing food out and has persistent bad breaths. These are few of the alarming signs associated with Gastroesophageal reflux disease (GERD), a chronic condition, which if ignored may affect the pets health harshly. In severe cases, dogs may begin to lose weight because they are no longer taking in adequate nutrition," says Dr Krishanu Ghosh, Veterinary physician from Kolkata.
Dr Ghosh says the treatment for canine acid reflux may involve withholding food for a couple of days and then feeding them small, frequent meals of a low-fat, low-protein diet.
The veterinary physician also recommends the following measures for treatment of acid reflux in dogs:
• Food items to keep away from your dog
Certain food items are part of your daily palette as a human but may be harmful to dogs. Food items like onion, garlic, grapes, raisins, nuts, chocolates, milk, and processed milk products are extremely harmful to dogs. Fried food, caffeine, and alcohol are also forbidden.
• Have your dog tested for food allergies
There is a chance that your dog might be allergic to certain food itemslike chocolates, pork, onion, garlic etc and may have difficulty in digesting. So, try to incorporate an allergy test along with your regular vet visits.
• Gut monitoring
Acid reflux can occur as a result of a big or high-fat meal, improper emptying of the stomach, or obesity. It is necessary to control fat and protein as they frequently cause an increase in stomach acid. Dry dog food can be replaced with moistened or home-prepared food, such as chicken or broccoli.
• Dietary requirements
The individual health requirements of every pet is as unique as they are. However, these health needs are often characteristic of their size, breed, or lifestyle. Here are a few things to remember:
- Avoid dry, processed foods containing allergens such as grains and starches, chemical preservatives, and low nutritional value substances
- Feed high-moisture meals made of whole foods, making them easier to digest
- Feed smaller and more frequent meals, or feed lower fat and lower protein so less stomach acid is released
Additionally, Dr Ghosh says exercise can help alleviate tension, encourage the release of endorphins, and provide movement for your dog's internal organs and digestive system.
"It is our responsibility to make sure that we feed our dogs a well-balanced diet, which is easily digestible and caters to all the age-appropriate nutrient requirements, followed by regular veterinary visits," concludes Dr Ghosh.
Personalise your news feed. Follow trending topics