3 lip-smacking sarso recipes you must try to welcome winter season
Published on Nov 27, 2022 05:25 PM IST
It's the season of sarso ka saag and makki ki roti. But besides this winter special recipe, you can also try these fragrant and flavoursome sarso recipes that will also warm up your cold winter days.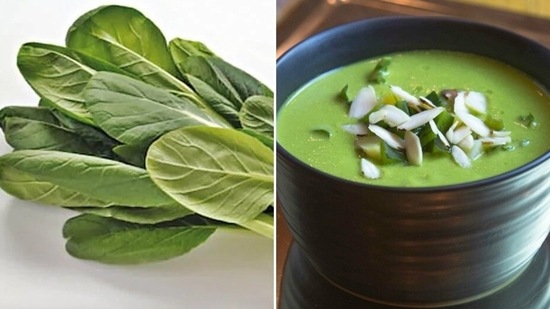 It is that time of the year when mustard greens are abundant and also are in great demand due to an irresistible winter delicacy 'sarso ka saag and makke ki roti' without which the season seems incomplete. Sarso or mustard has medicinal properties as per Ayurveda. The paste of mustard leaves is used to treat oedema and abscess. Mustard or sarso is high in Vitamin K, Vitamin C, and plant compounds and has powerful antioxidant and anticancer properties. Apart from sarso ka saag, sargo or mustard greens can be cooked by boiling, stir fried or steamed for preparing different delicacies. The low-calorie and low-fat food is perfect for your weight loss goals in winter. It helps control cholesterol and has loads of fibre. (Also read: Add sarson ka saag to your winter diet for these amazing benefits)
"There are lot of green leafy vegetables which are available during winter. Sarso is one such vegetable which is very beneficial and should be a key part of our diet during winter season. It is cultivated mostly in North and East India but is now available across India during winter season. Sarso is very low in calories and fats. It contains good amount of fibre that helps to control cholesterol levels by interfering with its absorption in the gut. Sarso is rich in antioxidants like flavonoids, lutein, beta-carotene and vitamin A, C, E, K. It promotes bone health as it contains vitamin K and calcium. Sarso is very beneficial for eyes also as it has vitamin A and Beta carotene. The green veggie also protects from many chronic diseases like cancer due to presence of phytochemicals. Sarso helps regulate weight gain, asthma, increases immunity, helps in constipation, lowers cholesterol level, relieves muscle pain as it contains lot of micronutrients and phytochemicals," says Pooja Kedia, Executive Nutritionist, Cloudnine Group of Hospitals, Bengaluru, Whitefield.
This winter try these unique sarso recipes which are also very tasty and healthy as suggested by Kedia.
1. Sarso Ki Chutney
Ingredients:
Sarso leaves (chopped) – 200 gm
Green chilly (chopped) – 2
Ginger - ½ inch
Salt - ½ tsp
Raw Mango – 3-4 small pieces
Method:
- Wash the mustard leaves thoroughly and chop them.
- Take a mixing jar, put mustard leaves, green chilli, ginger, salt and raw mango into it and make a paste.
- Take out from jar and serve with cutlets and pulao.
2. Sarso Soup
Ingredients:
Sarso leaves (chopped) - 3 cups
Spinach leaves (chopped) – 3 cups
Olive oil - ½ tsp
Cumin seeds – ½ tsp
Fenugreek seed – ¼ tsp
Onions chopped - ½ cup
Ginger grated - ¼ inch
Milk – 1 ½ cups
Salt – as per taste
Butter – ½ tsp
Method
- Heat 1/2 tsp olive oil in pan, then add cumin and fenugreek seeds. Let it turn brown.
- Add chopped onions and sauté, then add grated ginger, garlic. Sauté for 30 seconds.
- Add chopped spinach and sarso leaves. Sauté the greens until they are wilted, for about 5-10 minutes.
- Add milk and salt as per taste.
- Transfer this mixture into blender, blend it well into smooth soup consistency
- Pour soup back into pan and heat it.
- For seasoning the soup, heat butter add grated ginger, stir for few minutes and add it in soup.
- Serve hot.
3. Sarso Khichdi
Ingredients
Masoor dal (washed) - ½ cup
Rice (washed, pre-soaked for 30 min. and drained) - 1 cup
Green chilli slit – 1 pc
Salt to taste
Garam masala- 1 tsp
Sarso leaves (washed and trimmed) – 1 bunch
Ginger- 1 pc
Garlic – 1pc
Peanuts crushed – few
Method:
- Put masoor dal, rice, salt, green chilli and garam masala into cooker, mix well and heat until the rice is cooked.
- Now add sarso leaves, ginger, garlic, crushed peanuts in cooker. Cook on medium flame till one whistle.
- Serve hot with curd or pickle.