Give the perfect kick to your day with de'lan avocado toast | Check recipe here
Jan 29, 2023 02:33 PM IST
A round of de'lan avocado toast is all you need to feel fuller between meals and keep blood sugar levels stable | Check out its easy and delicious recipe inside
The de'lan avocado toast is perhaps the best way to kickstart your day where the toasted sour dough bread is topped with a generous spread of guacamole which is made using avocados, onions, tomatoes, etc and bocconcini cheese. This is then layered with fresh jaggery butter and showered with popped amaranth seeds.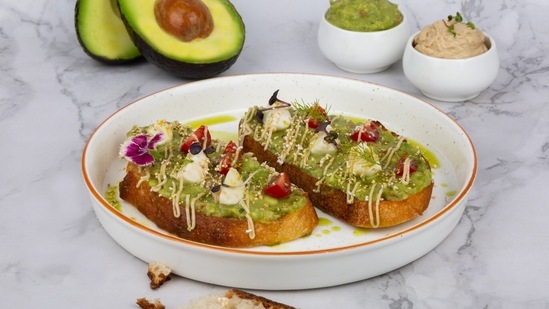 Avocados are a source of vitamins C, E, K and B6, as well as riboflavin, niacin, magnesium and potassium. They also provide lutein, carotene and omega-3 fatty acids.
Stay tuned with breaking news on HT Channel on Facebook.
Join Now
Avocados contain high levels of healthy, beneficial fats, which can help a person feel fuller between meals. Eating fat slows the breakdown of carbohydrates, which helps keep blood sugar levels stable.
So, what are you waiting for? Give the perfect kick to your day with de'lan avocado toast with the recipe given below -
Ingredients:
Sourdough bread slices 2-Pcs
Avocado pulp 100 Gms
Onions chopped 20 Gms
Tomatoes chopped 20 Gms
Coriander chopped 5 Gms
Green chilies chopped 1 no.
Salt a pinch
Lemon juice 1 no
Extra virgin Olive oil 15 Ml
Bocconcini cheese 50 Gms
Cherry tomatoes 20 Gms
Jaggery 10 Gms
Butter 10 Gms
Amaranth seeds popped 2 Gms
Method:
Toast the sour dough bread slices and keep aside. Combine the avocado pulp, onions, tomatoes, coriander, green chilies, salt, lemon juice and olive oil to make guacamole. Spread this guacamole evenly on the toasted sour dough bread slices.
Now, arrange bocconcini cheese halves and cherry tomato halves evenly on the toasts. In a medium hot pan, combine the jaggery and butter to form an emulsion. Cool this mixture and spread it evenly on top of the toasts. Sprinkle popped amaranth seeds on top and serve garnished with fresh micro greens of your choice.
(Recipe: Chef Tej):
Avocado is rich in anti-inflammatory omega-3 fatty acids, a host of vitamins and minerals including magnesium, B-6 and folate. Adding avocados in your daily diet can help improve gut health as the dietary fibre and monounsaturated fat in them impacts the microbes in the gastrointestinal system.
Apart from making one feel full and reducing blood cholesterol concentration, avocados consumption reduced bile acids and increased short-chain fatty acids. It is an energy-dense and nutrient-dense nicely packaged fruit that contains potassium and fibre that are important for health.