Sandy shores and crystal waters: Exploring Malaysia's amazing beaches
Jan 12, 2023 02:28 PM IST
Whether you are looking for a luxurious beach getaway or a secluded romantic beach retreat, Malaysia has something for everyone. Check out Malaysia's most stunning beaches.
For centuries, Malaysians have been blessed with some of the most beautiful beaches in the world. No matter where you go in Malaysia, you are sure to find some amazing beaches. From the pristine white sands of the east coast to the lush green beaches of the west, Malaysia's beaches offer something for everyone. The beaches in Malaysia are among Asia's most beautiful palm-filled secluded corners for tourists and honeymooners, offering a wide range of attractions like peaceful secret coves, tiny tropical islands, and a sun-soaked shoreline on the mainland. Scroll down to explore the stunning beaches of Malaysia and experience the beauty of this amazing country. (Also read: Journey into the past: A guide to the most significant historical sites in Malaysia )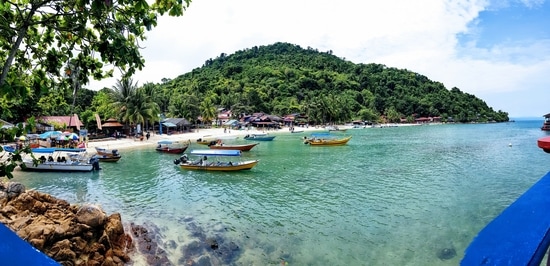 The eastern coast of Malaysia is home to some of the most stunning beaches in the world. On the island of Langkawi, Pantai Cenang is the most well-known beach in the east. This beautiful beach is surrounded by palm trees and has clean waters that are ideal for swimming and snorkelling. Teluk Nipah, Tanjung Rhu, and Pantai Tengah are a few other popular beaches on the east coast.
Malaysia's western coast has popular beaches such as Port Dickson, Lumut, and Tanjung Gemok. The most popular beach on the west coast is Penang's Batu Ferringhi Beach. This stunning beach is lined with, luxurious hotels and resorts, making it a perfect destination for those looking for a luxurious beach getaway.
There are some of the most remote and beautiful beaches along Malaysia's northern coast including Langkawi's Pantai Kok beach which is the most visited on the north coast. This picturesque beach is surrounded by crystal-clear water, making it the ideal location for a holiday with your significant other. Other popular beaches on the north coast include Tanjung Rhu, Teluk Bahang, and Pantai Cenang.
Malaysia's south coast is home to many amazing beaches. The most well-liked beach on the south coast is Redang Island. This stunning island is bordered by sparkling waters, making it the perfect destination for visitors looking for a relaxing beach vacation. Pulau Perhentian, Pulau Tioman, and Pulau Lang Tengah are a few further popular beaches along the south coast.
Follow more stories on Facebook & Twitter