Lok Sabha Elections 2019: BJP micro-managing Sunny Deol's campaign from Delhi
May 13, 2019 11:06 AM IST
Gurdaspur candidate Sunny Deol may have lent star power to the campaign, but the BJP headquarters in New Delhi is micro-managing both his on-ground and social media campaigns.
Nava Pind Sardara, a village nearly 10 kilometres from Gurdaspur town that offers a pleasant rural retreat for those wanting a break from the humdrum of city life, is bustling with SUVs and star-struck visitors these days.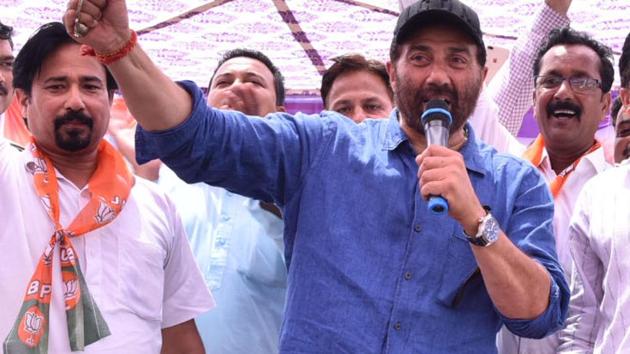 For, Bollywood actor and BJP's Gurdaspur candidate Sunny Deol is camping at a farmhouse in the village.
There is a flurry of activity in the party camp after a video of the 'Border' hero expressing ignorance about the Balakot airstrikes went viral, courtesy the Congress. In a damage-control mode, the BJP next day lined up the actor's interview with five news channels and some newspapers after duly briefing him on national and local issues.
But Sunny, who woke up late having come back at 2am after a late dinner with his friend, Punjabi actor Deep Sidhu, who is seen by his side during his campaign, appears for the first interview at 10am, which was scheduled two hours earlier.
He is sent a message by an annoyed BJP leader that the media is waiting. Though he usually starts his day early by hitting his personal gym, Sunny quickly poses for a TV crew while pumping iron. There is no time for breakfast which is packed and handed over to the driver of the Range Rover that is to take him on a roadshow to Batala.
The actor's starry tantrums are part of the brief of the BJP's well-oiled election machine. All of Sunny's programmes are rescheduled.
It starts with a photo-op with villagers from Dango village in Ludhiana's Sahnewal, from where his father, veteran actor Dharmendra, hails. After posing for cameras and taking selfies with Sunny, the villagers tell reporters that Dharmendra did not ditch his village as alleged by its sarpanch Amritpal Singh at a recent press conference in Gurdaspur.
"Amritpal is a Congressi sarpanch. Dharmendra came to our village many times. He gave away his ancestral land to his brother's family. We never asked him to contribute to the village's development," says Iqbal Singh, former sarpanch owing allegiance to the Akali Dal. Dharmendra's grandnephew, Buta Singh, quickly shows pictures of him with the veteran actor and his son, actor Bobby Deol. The press conference was handiwork of the Congress war room, claim local BJP leaders present there.
Also Read | Sunny Deol can't debate with experienced politician Jakhar, says Dharmendra

Micro-managed by Delhi
Deol may have lent star power to the campaign, but it does not seem to be enough. The BJP headquarters in New Delhi is micro-managing both his on-ground and social media campaigns. Details of everyday programmes are being relayed back and forth from the Pathankot war room of the BJP to Delhi.
Separate teams of the RSS, two former Punjab BJP chiefs — Kamal Sharma and Ashwani Sharma — are coordinating round the clock with local leaders.
Kamal's nephew, Ankit Sharma and a youngster from the BJP head office in Delhi tune up with Sunny's entourage — among them a UP minister, Tarun Rathi, who got the actor into the BJP. Sunny's public relations (PR) executive from Mumbai and his private security guards add to the paraphernalia.
The massive crowds at his road shows unnerve the Congress but it is ready with numbers. "The actor's own convoy makes up half of the crowd at the roadshow. I saw his roadshow when it crossed my home. He waved at us. Can we too be taken as his voters? Even a small crowd can choke that road," quips Congress' Gurdaspur MLA Brindermeet Singh Pahra.
As he heads for a meeting with members of the Gurdaspur bar association and a church before his roadshow, Sunny says it is tiring but he does not shy away from hard work. On high debt as declared in his poll affidavit, a reason Congress attributes to his poll plunge, he steers clear of the question, saying, "My business managers will be able to deal with it."
Also Read | 'Read newspapers or watch TV': Punjab CM takes a dig at BJP nominee Sunny Deol

Congress war room keeping tabs
The Congress' war room is constantly keeping tabs on Sunny. No gaffe made by him goes unnoticed, with eight youngsters in the local social media war room being overseen by the Indian Youth Congress (IYC) team in Delhi working overtime to keep the BJP on its toes.
It is churning out memes and spoofs on Sunny's popular film dialogues and how Dharmendra left Bikaner after winning the election in 2004. Dharmendra's video asking a reporter to "shut up" at Amritsar too has gone viral, so is his statement that he would have advised his son not to contest if he knew he was to pitted against his friend, former Lok Sabha speaker Balram Jakhar's son.
Each meme of the Congress comes with a tag line, "Sunny says he will think on local issues after winning the elections!" The memes dub Deol "nakli deshbhakt" (fake nationalist), who will fly to Mumbai once he wins.
By evening, the BJP gets busy reworking its strategy. It decides to make Deol go ward to ward in the towns from Friday. "He will cover villages in the last lap of campaign and reach out to farmers," a senior BJP leader says.
Apparently, the days are bound to get hotter for Sunny in the rough and tumble of poll campaign.
Also Read | Gunning for Gurdaspur, attack and counter attack between Sunil Jakhar and Sunny Deol