Lok Sabha elections 2019: Congress playing poaching games, say AAP MLAs
Apr 28, 2019 08:30 AM IST
Sunam legislator Aman Arora said the Congress has tried to poach every MLA in AAP.
Days after Aam Aadmi Party (AAP) rebel MLA Nazar Singh Manshahia joined the Congress, its legislators accused the ruling party of being on a poaching expedition. Of the 20 MLAs of the party, seven were part of the rebel faction led by Sukhpal Singh Khaira. After Manshahia's defection, their count is down to six.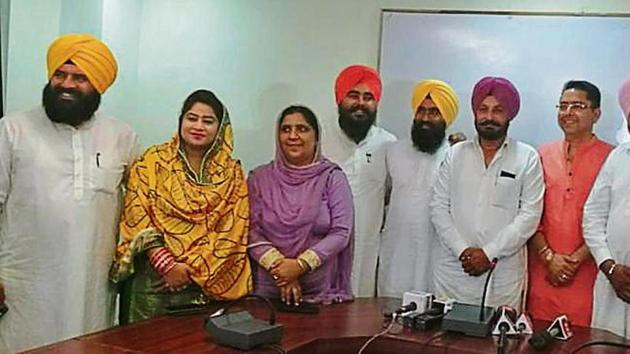 The MLAs owing allegiance to party chief Arvind Kejriwal tried to keep flock together by holding a show of strength in Chandigarh on Saturday to refute reports that some of them were ready to switch loyalties. Of the 13, eleven were present at a press conference barring two — Dakha MLA HS Phoolka as he was in Delhi and Baljinder Kaur, MLA from Talwandi Sabo, who was busy campaigning in Bathinda where she has been fielded by the party.
Stay tuned with breaking news on HT Channel on Facebook.
Join Now
Congress leaders privy to the development say Garhshankar MLA Jaikrishan Rori and Rupnagar legislator Amarjit Singh Sandoa had been approached by some party leaders to bolster the prospects of Anandpur Sahib candidate Manish Tewari and were expected to join on Monday when CM Captain Amarinder Singh will be joining Tewari for filing of nomination papers.
But both Rori and Sandoa were present at the unity show and accused the Congress of spreading canards. "There is no question of any of us defecting to the Congress. We were elected as AAP nominees and will remain so," said Rori, who had briefly joined hands with Khaira camp.
Sunam legislator Aman Arora said the Congress has tried to poach every MLA in AAP. "The ruling party has a two-thirds majority in the 78-member House. Yet, it wants to poach members of other parties. Every day, they are dropping names of our MLAs who may join them. The Congress is not looking surefooted and is trying to undermine AAP's prospects in Lok Sabha polls," he said.
Two AAP MLAs from Sangrur — Pirmal Singh from Bhadaur and Kulwant Singh Pandori from Mehal Kalan — too are learnt to be in talks with the Congress but both denied the possibility of defection. Part of the rebel faction, Pirmal said the Congress has approached him and some other AAP MLAs. "But I am firmly with Khaira and support his ideology," he said.
Pandori, who was part of 11 MLAs at the photo-op, said: "I haven't thought of dumping my party. This only betrays the nervousness of Congress," he added. Former MLA Kewal Dhillon, an Amarinder loyalist, is Congress candidate from Sangrur.
The defections being engineered by the ruling party has left its own MLAs fuming. "The fight of Congress is with the Akalis. If the count of AAP goes down, the Akali Dal will emerge as the official opposition in the state assembly. It is already looking like the main opposition. Are we resurrecting the Akalis? What has been the good of Manshahia joining us? He had no AAP cadre with him. Now, even the Congress cadre of Mansa is unhappy," a Congress MLA said.