Lok Sabha Elections 2019 : Embattled Badals offer political asylum to long-time foe
Apr 20, 2019 11:54 AM IST
In line of fire over Panthic issues, Akalis desperate to win Bathinda and Ferozepur; Brar's political career too had reached a dead end.
Politics makes strange bedfellows. Putting an end to bitter rivalry spanning four decades, former Congress leader and MP Jagmeet Brar returned to his native party, Akali Dal, with the entire Badal family in attendance for his "homecoming".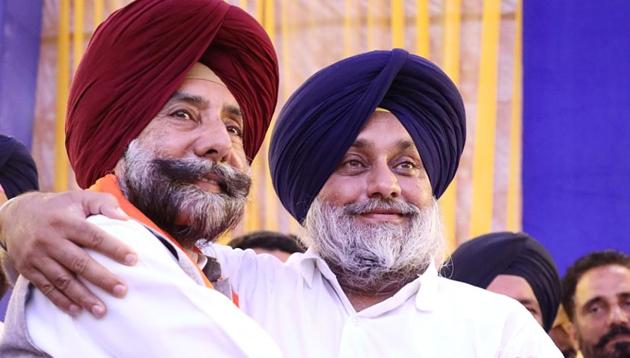 A strident Badal-critic during his political career, Brar used to call them feudal lords. After being shunted out of the Congress in 2016, he had given a war cry against "dynastic and feudal politics" of the Badals and then Punjab Congress president Captain Amarinder Singh and accused both of being in cahoots with each other.
Shiromani Akali Dal (SAD) chief Sukhbir Singh Badal has until now mocked Brar as a "gappi" (bluff master). But these are desperate times for both. The Panthic credentials of the Badals have come under a cloud over sacrilege and police firing incidents during their rule. Party's old hawk, five-time CM Parkash Singh Badal, is in his nineties and no more in active politics. The baton sits uneasy in son Sukhbir's hands as his leadership is facing an open challenge from a section of party's old guard who have launched SAD (Taksali) and are vying for Sikh votes.
Akalis are hoping to win at least Bathinda and Ferozepur and willing to do all it takes to boost public perception of a resurgent Akali Dal, even if it means offering political asylums to the likes of Brar.
The political journey of Brar, a quintessential rebel, too has come a full circle. Known to lock horns with those in positions of authority, he did not get along with all Congress CMs, starting from Beant Singh, Harcharan Brar to Amarinder. In 1994, then prime minister PV Narasimha Rao had stripped the dissident Faridkot MP from party's active membership for five years, which was later revoked.
Brar contested against Sukhbir in 1998 polls but lost. A year later, he avenged the defeat by trouncing Sukhbir from Faridkot in 1999.
Congress asked Brar to sit out in the 2014 election after two back-to-back defeats in 2004 and 2009 Lok Sabha polls. He hit back by offering unsolicited advice to then Congress president Sonia Gandhi and son Rahul to take a sabbatical to introspect the party's worst-ever tally of 44 seats in 2014. Pushed to the margins, he also trained guns at Captain, questioning his "autocratic" style of working. In 2016, the Congress showed him the door despite an enviable 12-year stint in party's central working committee and 35-year-long association.
Out in the cold, he gave a call for a "mega alliance" against the Akali-BJP combine and the Congress in Punjab. His lavish praise for Arvind Kejriwal could not get him an invite to come aboard the Aam Aadmi Party (AAP). He finally hopped on to Mamta Banerjee's Trinamool Congress, only to leave it a year later. His political career at a dead end, Brar sent feelers to the Congress but got no response, till the Akalis sensed a mutual resurrection.
"His roots are in the Akali Dal as his father was a committed Akali. He is a good orator with knowledge of Sikh history," says Akali Dal leader Maheshinder Singh Grewal, party's candidate from Ludhiana. But political circles are already abuzz with questions on how long will the Brar-Badal courtship last?
The firebrand leader had a promising start as a student leader of the Sikh Student Federation (SSF). But his political battles became personal after his father, Gurmeet Singh, a former state minister was not fielded by Badal from Faridkot parliamentary seat after he (Badal) was elected as the Punjab chief minister in 1977. Gurmeet died of heart attack and Jagmeet parted ways with Akali Dal blaming Badal for his father's death.
He has had just two wins in 10 state and Lok Sabha elections he contested, of them one in 1992 when the Akalis had boycotted the polls. Brar had blamed the "Captain-Badal conspiracies" for the defeats. But he is proud to be an Akali again for what maybe his last hurrah.