No zari curtains on Valmiki's Ramayana: Shebaba by Renuka Narayanan
Feb 24, 2018 04:58 PM IST
The root Ramayana didn't have a 'Lakshman rekha' or a terrible last parting, but the versions after it have been revised to suit the writers
Last week in Chennai at the historic Kalakshetra dance academy, there was a dhrupad festival featuring the Gundecha Brothers of Bhopal and their gifted students from places as far apart as Portugal, the edge of Europe, and Japan, the edge of Asia. This reminds us of the wide reach of the Ramayana. The Ramayana is 'the Epic of Asia' in ways not fully counted yet. There's even a version in Mongolia.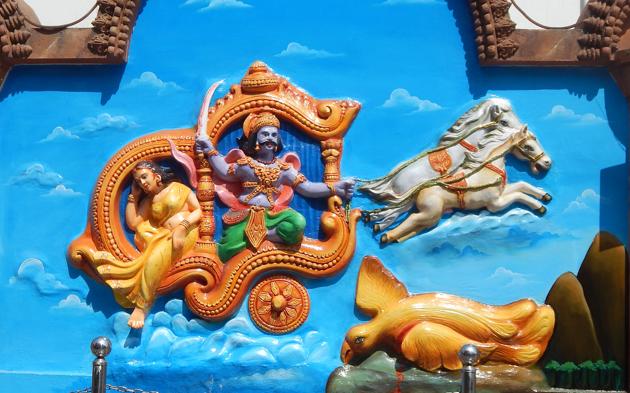 Regarding the Ramayana, I like the root Ramayana best, which is Valmiki's. I do so while dutifully acknowledging, if not always celebrating 'plurality' (it's not always interesting because someone else said it). Also, I stay with Valmiki's first six books, which end the epic with the hero's homecoming and coronation and the phala shruti or list of listeners' benefits.
It's not that I don't recognize that the Ramayana has dialogued unceasingly with the Indic bandwidth and beyond. I choose to stick with the root story because I don't want to be confused, or confuse others. No dubious later twists like the killing of Shambuka, sending Sita away to the forest, no twin sons, no terrible last parting. Not by Valmiki anyway, in some scholarly opinion, which suits me. Valmiki didn't have a 'Lakshman rekha' either.
I curl my lip at the Lakshman rekha as a literal device that's medievally prudish and feel sure that Valmiki would curl his lip, too. In the root Ramayana, Ravan drags Sita away by her hair and holds her in his arms. Kamban didn't hold back from graphic descriptions of Sita in his 9th century Tamil Ramayana in which he acknowledged Valmiki of the northern lands.
But Tulsi, gallant soul, couldn't handle the thought in the 16th century of Ravan laying hands on Sita and neither could others elsewhere, so they respectfully or prudishly changed it. Therefore, it's about them, not the epic. Much as I honour and appreciate Tulsi's concern, it's another reason why I choose to clinically stick to the original Valmiki. It's the Ramayana 'as it is' without the little zari curtains and pyjamas.
This view need not be a cause for quarrel. As Tulsi himself said, "Hari anant, Hari katha ananta, kahat sunat bahuvidhi sab santa": God is infinite and so are the stories about God, which are told and heard in different ways'. He justified his retelling of the epic with these words. What his short-sighted opponents couldn't see was that Tulsi rescued religion in the cow belt, even if he added extra devotional prudery to it to make it acceptable to the public of his day. How similar it seems today to what Rukmini Devi Arundale did for Bharata Natyam when setting up Kalakshetra. Art researchers now revile her for it like crows pecking at the bones of a magnificent dead elephant.
However, like with Tulsi in the 16th century, to be prudish in the 20th century was good strategy by Rukmini Devi to 'chalao' what was then considered dirty dancing. So the line between 'modesty' and 'prudery' advances and retreats and people must do what suits them, to push or retract their own lines.
shebaba09@gmail.com
Views expressed are personal
"Exciting news! Hindustan Times is now on WhatsApp Channels
Subscribe today by clicking the link and stay updated with the latest news!"
Click here!