Movie review: Gulaab Gang is no women's liberation statement
Hindustantimes.com |
, New Delhi
Sweta Kaushal
Mar 08, 2014 11:11 AM IST
There are several clichés and loopholes in the film and Gulaab Gang has its lows. However, if you are looking for a Bollywood masala entertainer, this one's a must watch.
With , the drama preceded its launch. After days of is-it-inspired-by-Gulabi-Gang-or-not debates, activist Sampat Pal filed a plea in Delhi high court asking for a stay on the film's release on Wednesday. Her argument was that the film was based on her.
After an initial stay, the film's release was on Thursday. Although the controversy has raised people's interest, is the Madhuri Dixit, Juhi Chawla-starrer worth all the hoopla?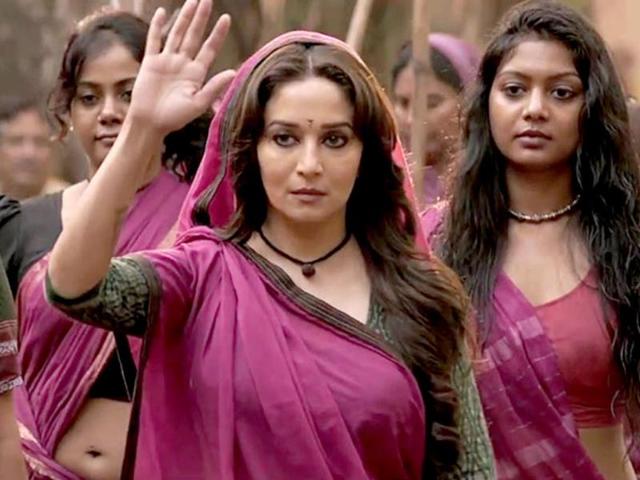 If you are looking at a , no. But if a
masala
potboiler is what you are out for, you can book your tickets now.
SPOILERS AHEAD
The film showcases the journey of Rajjo (), a revolutionary at heart, who even as a kid wanted education and was ready to fight the society for it. She goes on to establish an
ashram
where caste, power, financial and gender divide are just empty words. This hero meets her match in all-black Sumitra Devi (Juhi Chawla).
Stay tuned with breaking news on HT Channel on Facebook. Join Now
Click to join.
Other than the gender of its hero and villain, the rest is all Bollywood. In typical
filmi
fashion, Madhuri fights the system for the oppressed and tackles violence with violence (justified, of course).
The film is not free of clichés either. Young Rajjo is shown being 'cured' of the disease of hunger for education. The village set-up has women being beaten up by their husband, in-laws craving for dowry and women being tortured.

An oppressed woman, who has been thrown out of her in-laws' house, is about to jump to her death. Instead of offering soppy sentimentality, women of Madhuri's Gulaab Gang remind her the outcome of her actions.

There's a certain je ne sais quoi about Madhuri's character which reminds you of Amitabh Bachchan from Sarkaar. Only, while Amitabh lived outside the confines of law in the film, Madhuri prefers to stay within. She resorts to violence only when the system fails to deliver.

The small nuances of corruption and a tattered system are carefully embedded in the narrative. When a government officer impresses his authority upon the villagers and reminds them about the sacrifice of policemen, the irony of the situation is brought home by a group of cops playing cards in the same room.

An effective hero needs a larger-than-life villain. In this case, it is Juhi Chawla who marries her sister to a rapist and apparently killed her husband to get political power. Like most corrupt politicians we see onscreen, she is an opportunist who lusts for power. It speaks well about her acting prowess that we come to hate the otherwise effervescent Juhi in this film.

Despite this, there are some road bumps in . When you enter a make-believe world ruled by powerful women, you don't want to see their Bollywood thumkas.

Towards the end, a furious Rajjo vows to take revenge. And the next scene is a typical holi song where Madhuri is brandishing her trademark smile. By the time the gun battle begins, you really cannot be bothered anymore.

There are several cliches and loopholes like this in the film but it is an entertaining potboiler nonetheless.