Movie review: O Teri is pretty much Jai Ho without Salman Khan's star power
Hindustan Times |
, New Delhi
Sweta Kaushal
Mar 29, 2014 01:17 PM IST
Salman Khan has gone all out to promote his sister's home production O Teri. The Bilal Amrohi-Pulkit Samrat-starrer is not a total paisa-vasool film, but entertains you in bits and pieces.
Umesh Bist's directorial venture O Teri hits theatres on Friday. With Salman Khan going all out in promoting this Atul Agnihotri production, there is a lot of buzz around the film. Not only has Salman promoted the film on social networking sites, he also features in the title track of the movie. He even got his rumoured girlfriend Iulia Vantur to do an item number.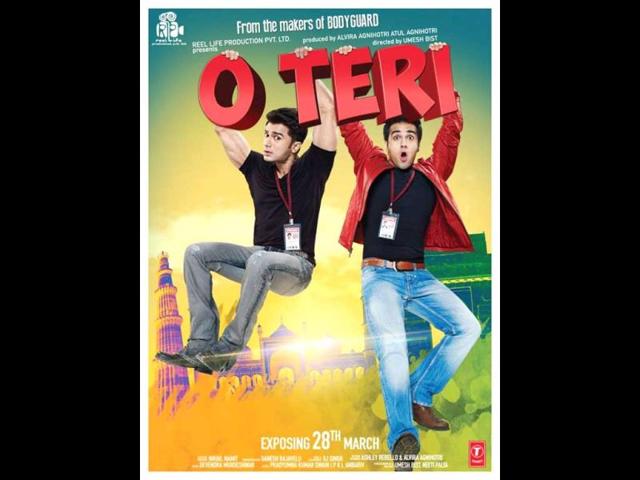 O Teri is the story of two reporters (PP and AIDS, played by Pulkit and Bilal) who are stupid enough to allow stories go out of their hands. Sarah Jane Dias plays their boss, a channel head while Anupam Kher is the Chairman of the sports committee that is planning upcoming Asian Games.
Smacks of Suresh Kalmadi and Commonwealth? It totally does. But there's a lot more to the film than just that. O Teri takes digs on the media, government and political leaders.
Sample some of the dialogues:
Monsoon, the channel head says while lecturing on what kind of stories Pulkit and Bilal should get for her, "
Logo ko scandal chahiye, scam chahiye...rape, dakaiti. Ye sab kuch ho to lao warna shaqal mat dikhana.
(The public wants scandals and scams. If you something sensational like stories on rape or dacoity, bring it to me, else do not show me your faces.)"
PP describes a scam to his friend AIDS, "Jab chhote log chori karte hain to wo chori hoti hai. Magar jab bade log chori karte hain to wo scam kehlata hai."
Sarah Jane reacts to appreciation on how well she 'managed' a murder, "We have free media in the country, you know. We know what to hide and what to highlight."
Anupam Kher says, "Ye aaj ki yuvapeedhi hai. Jab inki batti lagti hai to ye sirf mombatti jala sakte hain, India Gate pe."
Manoj Pahwa, who plays a contractor, is one interesting aspect in the film. His vehicles change from a scooter to Maruti car to a BMW to ultimately an OB van (as he progresses as the contractor who takes loan to pay bribe to one who has the contract and money) that helps Pulkit Samrat and Bilal Amrohi in winning the battle and emerging as heroes.
Though high on the satirical note, the story-telling in O Teri could have been much crisper. In fact, it reminds you of Salman Khan's Jai Ho - both in the subject and the execution. Only, the execution is worse than Salman's aam admi saga.

While the first half drags, the second half seems like the director is in a hurry to complete the movie.
As for the performances, Bilal is a little uncomfortable in his character at times and Pulkit does a decent job of playing stupid. Anupam Kher, quite predictably, slips into the character of a corrupt neta with complete malice. Sarah does not have much scope to showcase her skills in the film.
The songs in O Teri are more of an interruption than a part of the narrative. They take you off the the story.
For people who want to watch O Teri for Salman Khan, here's an advice - wait for the end credits. However, with a Salman-overdose in the film, you will constantly be reminded of the Dabangg star. The menu of a dhaba that the lead characters frequent has items like - Wanted Parantha, Bodyguard special chai and Dabangg dal tadka.
But O Teri can make for an okay weekend watch.