Movie review: Paranthe Wali Gali fails to satiate
Hindustantimes.com |
, New Delhi
Sweta Kaushal
Jan 18, 2014 12:03 AM IST
Paranthe Wali Gali is like a meal that lacks spice. It's central theme fails to grip and the treatment is run-of-the-mill. Populated as it is by loud characters, this one fails to attract despite its yummy name.
Director Sachin Gupta publicised his movie Paranthe Wali Gali as one that hails from and celebrates the culture of old Delhi.
Anuj Saxena, who makes a comeback to acting after five years, and debutant Neha Pawar play the lead roles in the film.
While the film is not extraordinary or out-of-the-box, it makes for a one-time watch.
SPOILERS AHEAD
The story is very predictable yet simple and enjoyable. Paranthe Wali Gali is a simple love story with old Delhi as one of the characters. It showcases the struggle of a theatre artist and how he grapples with commercialisation of art.
Moulik (Anuj Saxena) heads a small theatre group that is struggling for space to rehearse and stage plays. With the help of Neha (Neha Pawar), they manage to get a slot during a big cultural festival in the city. However, the organiser backs off at the last moment, replacing Moulik's play with a sex comedy. The film focuses on the struggle of Moulik and people around him.
Anuj Saxena performs well and almost all other characters fit the bill. Most of them are loud and vibrant, just what you expect. Neha Pawar is the typical loud, talkative Delhi girl - her bubbly persona reminding one of Anushka Sharma.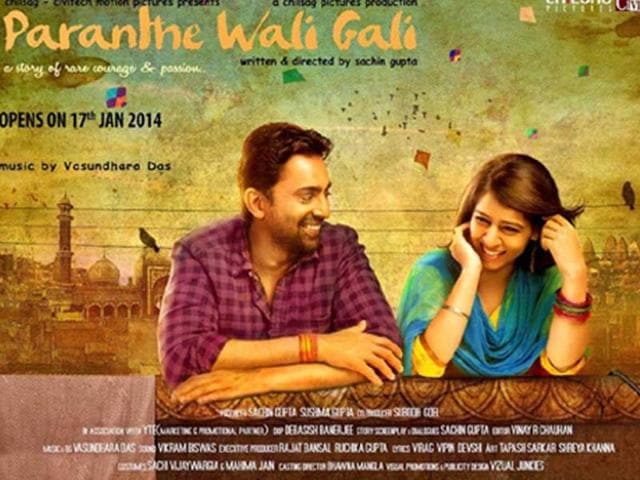 Overall, Paranthe Wali Gali is not a movie that offers any surprises. It does not have your regular masala, item number dose but is populated with characters you will like and a theme you will associate with.
Stay tuned with breaking news on HT Channel on Facebook. Join Now
Click to join.