Movie review: Queen Kangana Ranaut turns tragedy into celebration
Hindustantimes.com |
, New Delhi
Sweta Kaushal
Mar 14, 2014 02:13 PM IST
The self-discovery of a woman rejected in marriage, Vikas Bahl's Queen is predictable and does not really break stereotypes every other second. Kangana Ranaut, however, may remind you of a younger Sridevi from English Vinglish.
Vikas Bahl's Queen hits theatres on Friday.
Songs like London Thumakda and a claiming to be on a Honeymoon trip all alone, Queen promised to be a fun ride, or so we thought.
The film, however, does not quite meet the expectations.
Plot:
Kangana Ranaut (Rani)and Rajkummar Rao (Vijay) are set to be married but the wedding is called off after Rao decides he has moved ahead of Rani. She then goes on the honeymoon trip she had planned – all alone. Through the journey , Rani discovers the joys of breaking free, cherishing life and living on her own terms.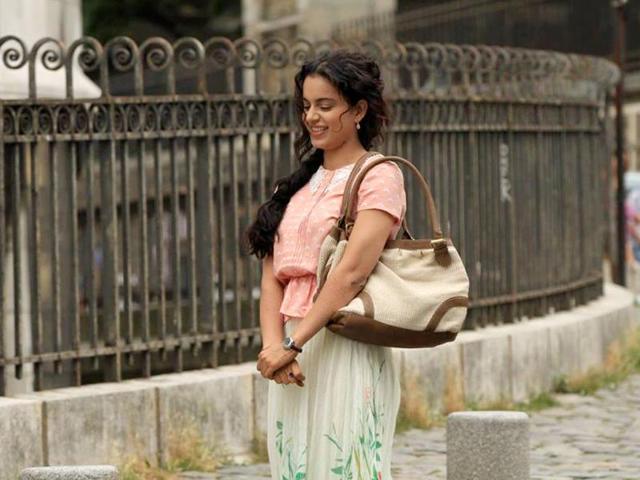 The Kangana Ranaut-Rajkumar Rao-Lisa Hayden-starrer has a predictable storyline and stereotypical sets.
The first half of the film is especially boring and full of stereotypes. Even after she leaves for her 'honeymoon' all alone, Kangana does not really shake off the shackles of traditions and society. Kangana's character fears strangers, is unable to gel into a new environment and is scandalised each time she gets a culture shock (public display of affection or women drinking or smoking) during her trip abroad.
Stay tuned with breaking news on HT Channel on Facebook. Join Now
Click to join.
There is one point that was not predictable – when a stressed out heroine goes out and drinks alcohol for the first time in her life, you expect her to go crazy and break free. Kangana does not.
Even when she drinks and sort of breaks off the bonds, she still remains in the confines of the traditions.

Interestingly, a high point in the movie arrives right there. Just as she goes into flashback and remembers that her fiancé (Rajkummar) did not like her dancing at public places, she literally lets her hair down. There is angst, aggression, revenge and there is defiance.
Kangana really impresses with her performance. Though Rajkummar does not have much of a screen space, he plays the regressive fiancé perfectly.
Be it the Lajpat Nagar girl all excited about her first night (after wedding) or the girl rejected in marriage (because she has not 'changed' as much as the London-returned guy has) or the confident girl who makes a place for herself, Kangana touches the right chords.
The film takes an upward graph in the last twenty minutes. Kangana is actually out to have fun and you can imagine a younger Sridevi from English Vinglish – discovering herself, within the confines of her own culture and upbringing, yet defying norms set by others.
If there is one reason why you should watch the film, it is Kangana's acting.
Now watch: