Mumbai drug addict slits 78-year-old woman's throat, steals cash, phone; arrested within six hours
Aug 15, 2017 08:46 AM IST
Zehra Hakim was staying alone in Abba Gani building in Mazgaon. Her body was discovered by her elder daughter, Arva Asgar, who had arrived from Hyderabad in the morning
A 78-year-old woman was found brutally murdered inside her south Mumbai residence on Monday morning. The police arrested a 25-year-old drug addict, who was released from Arthur Road jail just eight days ago, and recovered the victim's earrings and her mobile phone from him.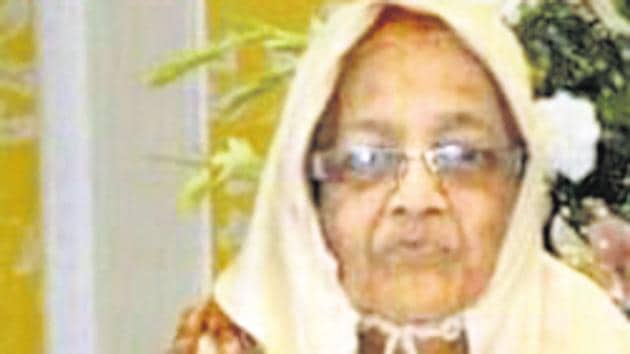 Zehra Hakim was staying alone in Abba Gani building in Mazgaon and her body was discovered by her elder daughter, Arva Asgar, who had arrived from Hyderabad with her nine-year-old son in the morning.
Police said the senior citizen's throat was slit and cash, a mobile phone and valuables from her home were stolen. The accused, Abdulla Usman Sayyed, was tracked down by the police after he made a call using the victim's phone.
The police said he had followed the victim after she finished taking her walk in the morning and barged inside the house just after she had returned. He used a kitchen knife to slit her throat, said the police.
Read: Senior citizen found murdered at his Kandivli home in Mumbai
"The knife used by the killer has been recovered from the spot and has been sent to the forensic laboratory," said an officer from Byculla police station.
The police have registered a case under section 302 (punishment for murder) and 394 (voluntarily causing hurt in committing robbery) of the Indian Penal Code (IPC).
The victim's son-in-law, Ali Asgar, whose wife found the body, told HT, "The last we spoke to my mother-in-law was three days ago after we came back from Surat after visiting our son who is studying there. We were planning to come and meet her shortly, but today morning we got the news of her death."
He added, "Arva was downstairs as she was getting the luggage, while our son ran up to meet his grandmother. But as soon as he opened the door, he found her body next to the bed. He ran down to my wife. They initially thought that she might have fallen from the bed, but later noticed the wound on her neck."