Mumbai building collapse: Luck, presence of mind save a few
Hindustan Times |
, Mumbai
Sadaguru Pandit and Sagar Rajput
Sep 01, 2017 11:43 AM IST
While hotel workers stepped out minutes before collapse, two bouncers jumped to the adjacent building
It was a narrow escape for Abdul Israil, who worked at a hotel in Hussaini building's ground floor. He had stepped out for breakfast minutes before the building collapsed.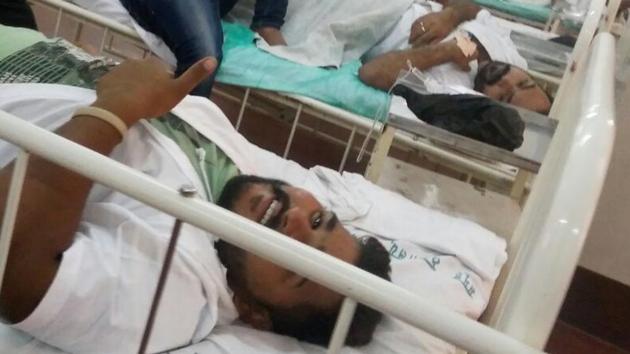 "I have been working here for the past 15 years and we usually slept at the ground floor of the building. After I woke up on Thursday morning, I went for tea and breakfast with four of my colleagues," Israil told HT. He went to an eatery opposite the building and then noticed that Hussaini building had started shaking and was about to fall when he fled the spot with his colleagues. "When I was inside the hotel at the opposite building, somebody raised an alarm that Hussaini was about to fall. So when I went to see, I noticed that the building was shaking, I feared for my life and fled from the spot," said Israil
After the building collapsed, the survivor realised that his four other colleagues were sleeping in the building. "After I fled, I suddenly realised that my four other colleagues were trapped inside. I am trying to call them, but no one is answering," added Israil who hails from UP.
Another man, who owned an AC repairing shop in the building, was saved after as he got held up at home owing to some household work. The shop owner Mohommad Saifuddin said, "I usually open my shop between 8am and 9am but I had some household work so my family members asked me to wait back. Just because they made me wait, I am alive today."
But 56-year-old Usman Ali's story is more about fear of losing close ones than of survival. He rushed from his Mankhurd home as soon as he heard about the collapse. Both his nephews, Kayyum and Nasir, were in the building. "I got to know about the incident around 9.30am. Kayyum stays with me in Mankhurd but he had come to Byculla last week to meet Nasir. They went out for dinner and then instead of coming back to Mankhurd, Kayyum decided to stay back," said Usman. Both the youngsters, being orphans, were raised by Usman who helped them set up fruit vendor business to earn a living. "I came here and lost my mind seeing the state of the building. I ran back to JJ Hospital but the records showed that they aren't among the injured. I have no strength to check the mortuary," said Usman.
'Didn't know it was our last time out'
Mumbai "The only proof we have of the presence of our brother under the debris is a 12-year-old child who used to stay with them," said Aasif Khan, who cousin Imran Khan was one of the workers at a nearby and used to sleep on the ground floor of the building. "It was a huge storage place for local vendors to keep their tables and other things. The place was used by restaurant workers to sleep and often they would invite other friends for a sleep over," said Aasif.
"I dropped him and went home to Nagpada. Didn't know that this would be our last time out," said Amjad. When Amjad came to the spot, the child told him that only he got out among those who slept there.
2 bouncers jumped out of window
Mumbai Among the lucky survivors were two bouncers, Salim Hussain, 41, and Iqbal Khan, 23, who used to work at a nearby bar. As the building started shaking, both broke their window and jumped to an adjacent building. They sustained minor injuries but saved their lives.
Both had come to Mumbai from UP around a month ago and successfully landed jobs at a bar. "We took a room in the building as it was cheap," said Salim.
Both had returned home after in the morning after working through the night. "We knew immediately something is wrong. Next thing I asked Iqbal to do is jump out. Fortunately the adjacent building was in our reach," said Salim.
"Exciting news! Hindustan Times is now on WhatsApp Channels
Subscribe today by clicking the link and stay updated with the latest news!"
Click here!