Axis Bank scandal: Transactions worth Rs 165 crore in NCR branches under probe
Dec 21, 2016 11:51 AM IST
As many as 23 suspicious accounts at Axis Bank's Sector 18 branch were reported to the income tax department
As many as 23 suspicious accounts at Axis Bank's Sector 18 branch were reported to the income tax department in the last couple of days. An I-T official said they are probing 63 suspicious accounts in three different branches of the bank in Noida and Delhi with a total transaction of over Rs165 crore.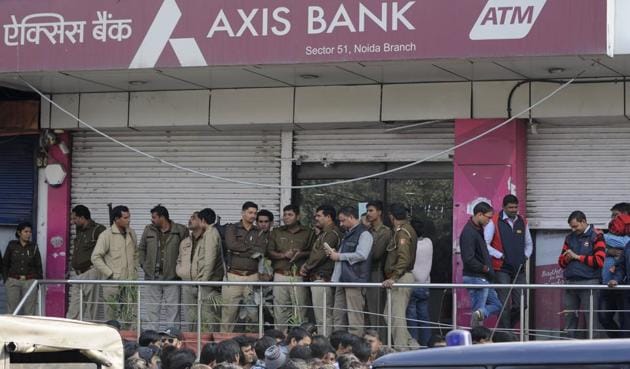 "The Sector 18 branch of Axis Bank informed us about 23 suspicious accounts. Now we are probing 63 accounts at Sector 51, Sector 18 and New Delhi's Krishna Nagar branches," said an I-T official.
Sources said that post demonetisation, all transactions from these accounts were made to a bullion trader's account in Delhi's Chandni Chowk.
Read more: Axis Bank raid: Cops seek transaction details of two accounts under scanner
On Thursday, I-T officials conducted a raid at Axis Bank's Sector 51 branch over suspicion of transactions worth crores of rupees from bogus accounts.
The department found that a big amount was transferred to a Delhi-based bullion trader's account after demonetisation. The bullion trader is accused of selling gold worth hundreds of crores after the demonetisation announcement on November 8.
"All these accounts belong to separate companies. They were opened months before demonetisation. We are probing the transactions and trying to find the owners of these companies," said an I-T officer.
Sources say the accounts were opened in the names of fake companies for large transactions of unaccounted money.
Meanwhile, the Noida police have also started a probe into an FIR that was registered against Axis Bank's Sector 51 branch.
"The investigating officer of this case visited the bank on Tuesday to collect evidence," said a senior police official.
Read more: Embarrassed over employees' conduct: Axis Bank CEO after demonetisation raid
Meanwhile, Axis Bank officials said they have proactively filed suspicious transaction reports (STRs) of many accounts across NCR to the I-T department that are being probed.
"We have already filed about 139 STRs over a period of time for the cases under discussion, including several STRs in the last one month. Additional information, as required, has also been shared proactively with the investigative agencies to aid their efforts. We continue to file STRs on various situations that may lead to suspicious transactions," said a spokesperson for Axis Bank.
The FIR against Axis Bank's Sector 51 branch was filed on the complaint of N Paswan, a resident of Pitampura area of New Delhi, who claimed that his identity was forged to open an account in the bank from which suspicious transactions were made.
Read more: After IT raid at Noida's Axis Bank branch, ED files money laundering case