Cash to Noida, Ghaziabad banks doubled, new note of Rs 500 in demand
Hindustan Times |
, Noida/ghaziabad
Abhishek Anand and Peeyush Khandelwal
Nov 16, 2016 09:02 AM IST
Many banks faced a shortage of the new Rs500 currency note, forcing residents to seek Rs2,000 and Rs100 notes
As long queues continued outside banks and ATMs across Noida on Tuesday, the capital given to the banks was doubled to cater to more customers, officials said. Many banks faced a shortage of the new Rs500 currency note, forcing residents to seek Rs2,000, Rs100 and notes of other lower denominations.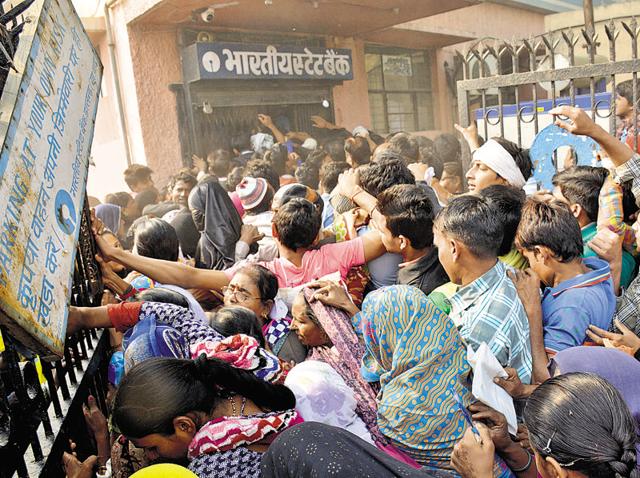 "Due to the heavy footfall in banks over the last five days, it was decided that the total amount that was being granted to each bank would be doubled. The demand for the Rs500 note is rising and we are falling short of it. We will try to arrange more Rs500 notes as soon as possible," AK Singh, lead bank manager, Gautam Budh Nagar, said.
Bank officials said that they have not received indelible ink, to mark fingers of persons withdrawing money, as informed by the secretary of economic affairs, Shaktikanta Das, at a press conference on Tuesday. The Centre decided on the move to avoid multiple exchanges by a person within a short period of time.
"We have not received the indelible ink so far. Also, no directions have been issued about its usage at the bank level. Once we receive written orders, we will start using it," Singh said.
Residents were spotted forming queues outside banks and ATMs hours before the opening time, as early as 3am.
"I joined the queue around 3.15am and also took off early from my office to withdraw enough cash. Had I been a little late, I would have been standing behind as the queue was double that of those in the last few days," Dhanesh Chand of Pratap Vihar in Ghaziabad, who works in Noida Sector 63, said.
Rama Sonkar of Ghaziabad was waiting in a queue from early morning with five family members to deposit money for her daughter's marriage, scheduled for November 17.
"The six of us came here around 4am as the branch is close to our residence. Due to the marriage, we will first deposit old notes and withdraw the amount later. We don't have an ATM card and enough cash in hand to meet the expenses," she said.
Ravishankar Singh of Sector 120 in Noida said, "We cannot stand in a queue every day. The cap on daily withdrawal is forcing us to stand in the queues every other day. The government should raise the cap from Rs2,500 to Rs10,000 to maintain the flow of cash in the market."
On Monday, the Ghaziabad district magistrate had asked all banks to issue tokens to avoid inconvenience to customers. But, many banks failed to do so and customers alleged unfair treatment from bank officials.
"The bank staff and policemen at the gates are allowing their acquaintances inside before others. I am diabetic and came along with my daughter-in-law, leaving behind my 2-year-old granddaughter with neighbours. Though we got here around 8am, we are still standing in queue till now, at 3pm," Yasmeen of Kaila Bhatta in Ghaziabad said.
Customers who were standing in lines said that they were inconvenienced due to lack of public urinals. Many ATMs ran out of cash on Tuesday as well. "One person is carrying debit cards of many others. The ATMs are being exhausted swiftly. The government needs to load more cash in the machines," Rajkumar Singh of Sector 25 in Noida said.