Despite measures, Noida pollution 'severe'
Nov 09, 2016 01:51 AM IST
Air quality in Noida remained in the 'severe' category for the fourth consecutive day on Tuesday
Air quality in Noida remained in the 'severe' category for the fourth consecutive day on Tuesday. According to the Uttar Pradesh Pollution Control Board (UPPCB), particulate matter (PM) 10 level was at 468 micrograms per cubic metre (µg/m3) as against the permissible limit of 100µg/m3 and PM2.5 level was at 492µg/m3 as against the permissible limit of 60µg/m3.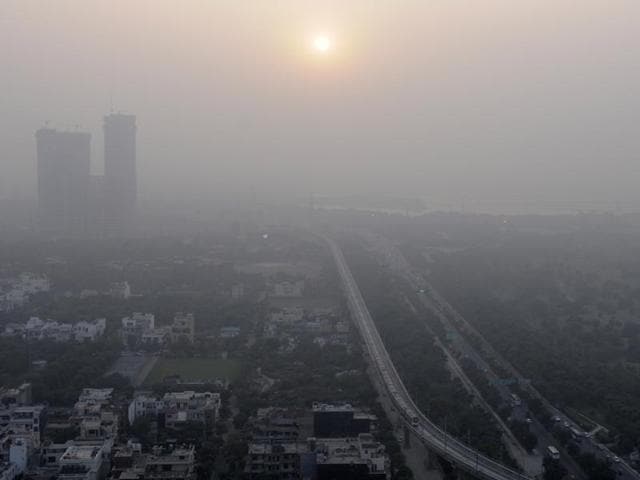 Gautam Budh Nagar district magistrate, NP Singh, had on Saturday issued an order restricting all digging work across Noida and Greater Noida for a week and builders said they are following the order. The Confederation of real estate developers association (Credai) said it has taken all necessary measures to curb air pollution and builders have hired tankers to sprinkle water near construction sites to prevent dust from rising. It, however, added that it has not received any notice to stop construction work.
"All members are asked to strictly follow the guidelines of the National Green Tribunal (NGT). Builders are making sure that their construction is not leading to dust pollution in the area," said Suresh Garg, secretary, Credai, Western UP.
According to the UPPCB, the pollution level is likely to remain in the severe category in Noida and Greater Noida, but with a slight decline. The department said PM10 level will hover around 445µg/m3 while PM 2.5 will be around 472µg/m3 on Wednesday.
Saying that the pollution level is improving slightly, the DM added, "The order to halt construction work that is causing dust is for seven days starting Monday (November 7). We had sent 10 teams to inspect the city and nobody was found flouting the rules".
Avneesh Sood, director, Eros Group, said, "All developers are committed to curtailing pollution at their respective construction sites. We welcome any surprise inspection by the administration."
Homebuyers, however, said builders hardly follow any order of the NGT for more than a week.
"They will follow the guidelines for a few days after they are penalized or a strict order is passed, but after a week, the situation will be back to square one. In the absence of regular checking they resume their old style of working and are least bothered about dust," said Abhishek Kumar, president, Noida extension flat owners' association.
The DM had also ordered a ban on burning of garbage and leaves and had urged RWAs to inform authorities about such incidents. However, garbage was still being burnt in some sectors.
"Our officials will ensure action against those burning garbage and leaves in the open," he said.