Fog catches Noida by surprise, disrupts road traffic
Dec 09, 2016 11:30 PM IST
Sudden dense fog on Friday morning caught the residents of Noida and Greater Noida by surprise
Dense fog that descended suddenly on Friday morning caught the residents of Noida and Greater Noida by surprise. The weather was clear till 6.20am, after which fog covered the city from all directions throwing traffic out of gear.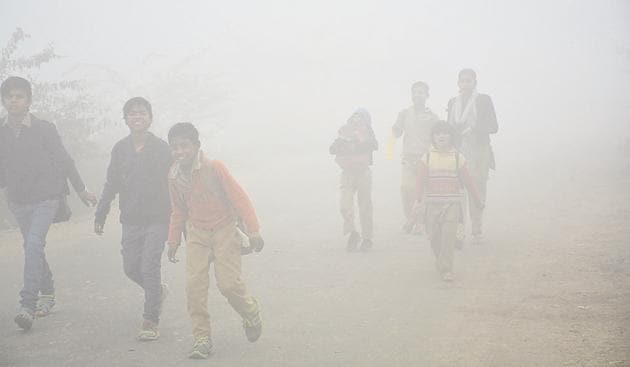 The fog also engulfed the highrise societies and the poor air quality forced the residents to keep their doors and windows closed.
The 24-hour rolling average of PM10 and PM2.5 touched 'very poor' limits. PM 10 was recorded at 238 µg/m3 and PM 2.5 at 317 µg/m3, according to the data of system for air quality and weather forecasting and research (SAFAR).
The permissible level of PM 2.5 is 60µg/m³ while PM10 is 100 µg/m³. Levels beyond that can harm to the respiratory system as the ultra fine particulates can embed themselves deep into the lungs and enter the bloodstream.
"It's impossible to reach on time anywhere in this dense fog. Moreover, no traffic signals in Greater Noida work during morning hours. I had informed my office that I would be late and will drive only when visibility increases," said Gaurav Tyagi, a resident of Bisrakh area of Greater Noida west.
The minimum temperature was recorded 12°C, while the maximum temperature was recorded 25°C on Friday. The weatherman said that in coming days the temperature will decrease further and the fog will increase.
The visibility decreased to 50-100 metres at Yamuna and Noida-Greater Noida Expressway forcing the commuters to turn on the fog and parking lights.
"It is advised that drivers and riders should install fog lights and drive with utter precaution during fog," said PP Singh, SP (Traffic), Noida. He said traffic police personnel were deployed at major crossings from early morning hours to manage traffic during fog.
In spite of district magistrate's orders of changing school timings and starting schools after 9am during winters, many private and government schools in Greater Noida started school early in the morning with school buses ferrying students in dense fog.
Fog continued till late afternoon on many stretches of Noida and Greater Noida.