New mobile app makes hiring autorickshaws easier in Noida
Dec 21, 2015 11:36 AM IST
Hiring an autorickshaw for commuting within Noida or to neighbouring Delhi and Ghaziabad is now just a click away.
Hiring an autorickshaw for commuting within Noida or to neighbouring Delhi and Ghaziabad is now just a click away. A private company has launched a mobile app service which the company claims is safer for commuters and also runs by the meter.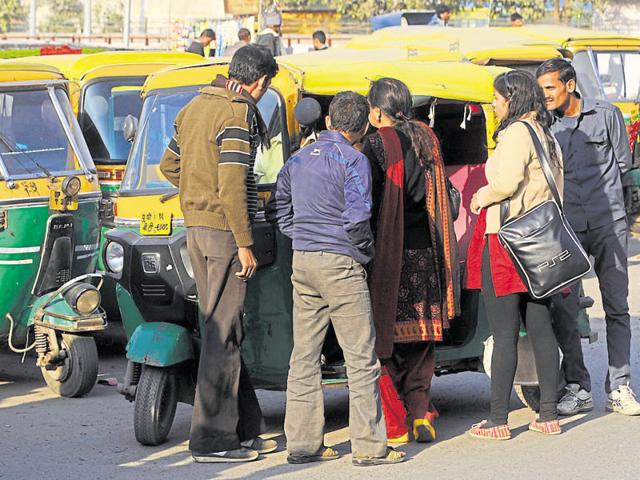 The regional transport office has issued permits to nearly 500 NCR autorickshaws in Gautam Budh Nagar so far for commuting between Ghaziabad and Delhi. However, these autorickshaws are not easily accessible to commuters as there are no apps, customer service numbers or dedicated autorickshaw stands for the purpose. Also, drivers plying autorickshaws within the city do not go by the meter and complaints of fleecing are numerous.
With a fleet of over 1,500 autorickshaws, the company claims to provide the service at a tariff lower than any city in the NCR.
"We have 235 autorickshaws with UP16 (Noida) registration and six with UP14 (Ghaziabad) registration. Of these, 1,320 vehicles have the NCR permit. Our charges are also very competitive. We charge Rs 20 for the first two km and Rs 4 for each subsequent kilometre, which is much cheaper than the fare in Delhi," said Samar Singla, founder and CEO, Jugnoo.
As autorickshaws do not ply by the meter in Noida, this service will also be quite beneficial for those commuting within Noida.
Singla said, "We have been operational in Delhi and Gurgaon since last year. Therefore, venturing into Noida is just a natural progression of our business, besides the fact that it is a lucrative region. Residents who do not have personal transportion as well as the migrant population rely heavily on the metro and other transport modes, which are inadequate. There are also concerns about safety. We intend to counter these prolonged concerns of residents with the launch of this app."
The autorickshaws are GPS-enabled and the commuter is provided with the name, contact number and a photograph of the driver on the handset, after making the request for travel through the mobile app. Commuters will also be provided with an emergency contact number, Singla said.
In August-end, another company, City Ride, offered autorickshaw service for those commuting in Noida, trans-Hindon Ghaziabad and Delhi through a mobile app and a helpline number. However, their fares were on a par with Delhi and they also collected a convenience charge of Rs 20 per ride.