Noida: National youth fest of the Indian Red Cross Society begins
Feb 12, 2018 10:58 PM IST
With an aim to help the youth contribute to society in a more effective manner, a three-day national youth festival, organised by the Indian Red Cross Society (IRCS) in association with Amity University, began on Monday at the university campus.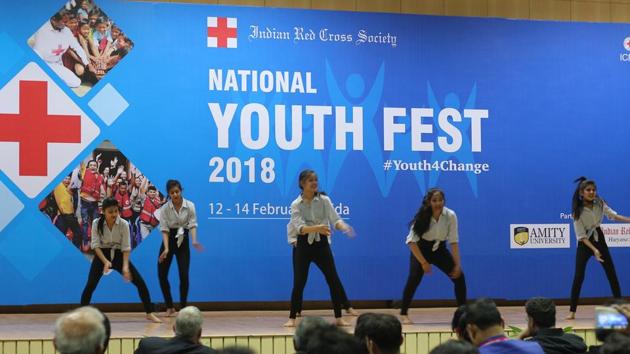 The event, which will end on February 14, saw the participation of over 400 Red Cross volunteers from across the country. The national youth festival attempts to help give IRCS volunteers a direction towards self-sufficiency and sustainability.
The objective of this fest is to get IRCS volunteers together at the national-level and formulate strategies for increasing youth participation in the Red Cross activities and decision-making.
Additionally, the camp will be helpful for participants to gain knowledge and build skills related to selected Red Cross activities.
The event started with a felicitation of youth icons by Manish Chaudhary, joint secretary, IRCS. Volunteers were given an opportunity to meet youth icons such as entrepreneur Ritesh Malik, para-badminton athlete Umesh Vikram Kumar, Nipun Malhotra of Nipman Foundation, actor Angad Singh Bedi and singer Fazilpuria.
Choudhary said,"Indian Red Cross identifies with the spirit of the youth and wants to bring the reflection of this vibrancy into our Red Cross programmes, so that it connects well with the young India. In India, the Red Cross movement is keen to bring in more youth power and the movement partners — International Federation of Red Cross and Red Crescent Societies (IFRC) and the International Committee of the Red Cross (ICRC) — are playing key roles in supporting this objective."
A cultural programme comprising music and dance performances by participating states was also held. A street play and a poetry recital session were applauded by the volunteers.
The event is a mix of educational and cultural extravaganza with each state staging performances that include dances, plays and music. This rendezvous would culminate in a grand ceremony on February 14 in which minister of state for health Anupriya Patel will be the chief guest.
The second and the third day of the event will include a 'miracle on the wheel' game, brainstorming sessions, a visit to the IRCS national headquarters and performances by theatre and art group.