Noida: People down to buying half kg tomatoes due to price rise
Jul 25, 2017 11:51 PM IST
With tomato prices increasing, residents are reducing its use in cooking and hence buying less
The rising cost of tomatoes is forcing people to buy a smaller quantity and reduce its use in cooking. The price of tomatoes has gone up from Rs40 per kilogram (kg) to Rs80 per kg, and even Rs100 in some areas of the city, in a matter of weeks.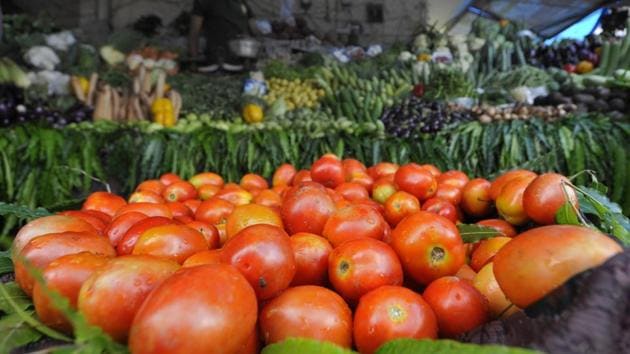 "A week ago, I bought four kilograms of tomatoes at Rs65 per kg. I could sense that the prices would go up further. Before that, a kilogram of tomatoes was generally available for around Rs30. Some vegetable vendors are even selling it at Rs100 per kg. My neighbours have reduced the quantity of tomatoes in their cooking," Shashikant of Sector 20 said.
The price of tomatoes has gone up drastically in the last 15 days, forcing people to rethink their cooking recipes that are heavily dependant on the vegetable. According to vendors, people have now started purchasing 500 grams of tomatoes instead of the standard kilogram.
Mahender Chaudhary, a vegetable vendor at Indira Market, said that the price of tomatoes has been fluctuating between Rs80 per kg and Rs100 per kg in the last one week. "My customers want 'A' quality vegetables. I have been picking up good tomatoes from a wholesaler at Rs100 per kg and selling them at the same price to my customers. I make my earning from the sales of other vegetables. Customers have also reduced a number of tomatoes they are buying, of late," he said.
Santosh Shah, another vendor in the same market, said that the prices have gone up as the local stock has been depleted.
"These tomatoes are being brought from Shimla. The wholesale price at the Azadpur mandi has gone up, resulting in a hike in the retail price. Customers who would buy one kilogram of tomatoes every alternate day are buying it every four days now, in the hope that the prices will fall," he said.
Residents said they are only using tomatoes in recipes for which they cannot do without it. "Tomatoes are missing from our green salad platter. We are using tomatoes only for cooking," Suprabha Gupta of Sector 11 said.