On Day 3 of protest against boy's death, Dadri school students say classes may resume Thursday
Dec 07, 2016 06:23 PM IST
Protesting students said classes would resume as the school nurse has been transferred til the probe is on
Three days after the death of a student at Jawahar Navodaya Vidyalaya in Dadri, students continued their protest seeking action against the school administration for alleged negligence and did not attend classes. Twelve-year-old Aditya Kumar, from Chhapra in Bihar, had died at the Lok Nayak Jai Prakash ((LNJP) hospital in Delhi on Monday after suffering from high fever. He had been staying in the school's hostel.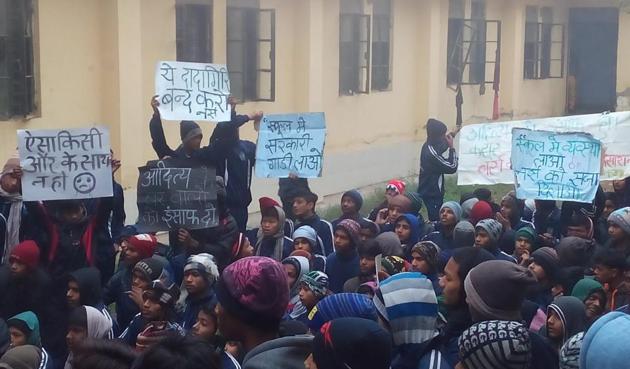 "Classes were not held on Wednesday as we protested and raised slogans against the school administration. They have promised action against whoever is found guilty," said a student of Jawahar Navodaya Vidyalaya.
Aditya had joined the school in July this year in class 10. He had complained of fever on Friday evening. School nurse Kamlesh Tomar administered treatment, but his health deteriorated. He was shifted to the Noida district hospital on Sunday from where he was referred to LNJP hospital in Delhi where he died on Monday. Students have alleged negligence on the part of the school administration and the nurse, who the school has transferred to Jhansi.
"The nurse has been transferred till the time the probe is completed," said a school official requesting anonymity.
To pacify the agitating students, the school administration displayed a copy of the nurse's transfer letter. Students said they will end their agitation from Thursday morning.
"Classes will resume from Thursday. We have faith in the district magistrate's probe and since the nurse has been transferred, the probe will not be hampered," said a student.
Aditya's body was sent for post-mortem to Delhi, reports of which are still awaited. District magistrate NP Singh had ordered an enquiry into the death of the student. "I have asked the local sub-divisional magistrate to take action against whoever is found guilty," he said.
The students have alleged that the nurse had given Aditya an injection without doctor's prescription, which led to complications. They had also said that he was not given immediate medical attention.