Speeding car hits man on Yamuna e-way, locals block traffic
Dec 19, 2016 10:50 AM IST
A man died after being hit by a speeding car at Yamuna Expressway on Sunday morning near Gautam Budh Nagar University
A man died after being hit by a speeding car at Yamuna Expressway on Sunday morning near Gautam Budh Nagar University, the police said.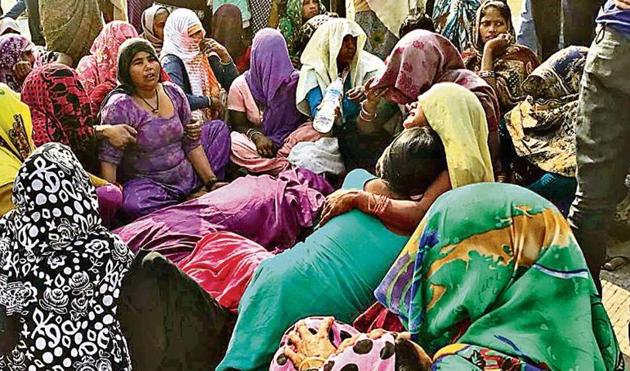 According to the police, the victim, Pappu Jatav, 35, was crossing the expressway when a speeding Maruti Swift Dzire hit him from behind and fled from the spot leaving him in the middle of the road. The deceased was a resident of Gharbara village and worked as a contractual construction worker.
Locals staged a protest with the body of the victim and blocked the expressway for over one hour. Police teams and senior officials rushed to the spot to pacify the protesters. The incident triggered a long traffic jam at Yamuna Expressway. The family of the deceased demanded compensation and arrest of the driver of the car.
"The police team pacified the protesters. We have secured the footage of CCTV cameras installed at the expressway. We will examine the footage to get a clue about the car that was involved in the accident," said Ram Bhawan Singh, in charge, Ecotech 1 police station.
Police said the body of the deceased was sent for an autopsy, reports of which are still awaited.
This was the 14th death in an accident on Yamuna Expressway in the last two months.
The police said crossing the expressway is too dangerous. "People should not cross expressway as vehicles move here continuously at high speed. Such accidents occur when people misjudge the speed of the vehicles and try to cross the expressway. It is advised that pedestrians should take the service lane to cross it," said Singh.
A case of rash and negligent driving and causing death due to negligence was registered against unidentified persons at the Ecotech 1 police station, police said.
E-way Negligence
December 12: Four occupants of a Maruti Alto car died when it rammed into a stationary truck at Yamuna Expressway. Three of the deceased were from the same family.
December 4: One person died while three others were injured when a speeding car collided with a tractor-trolley that was loaded with wheat sacks. In another accident, a man was burnt to death when his car caught fire after collision with a bus.
December 1: Three persons died while seven others were injured in a pileup of six vehicles at Yamuna Expressway. Police said the incident had occurred due decreased visibility caused by dense fog.
November 13: Four persons from two different families died when a speeding Mahindra XUV lost balance and jumped the divider and collided with a Ford Figo. Three occupants of the XUV and one occupant of the Figo died on the spot.