Two members of 'axle gang' held for robbing bus passengers on Yamuna e-way
Jan 17, 2017 12:46 PM IST
The two allegedly robbed passengers and conductor of the UPSRTC bus at gunpoint on Yamuna Expressway on December 22
The city police have arrested two persons for allegedly robbing commuters in a Uttar Pradesh State Road Transport Corporation (UPSRTC) bus. The accused, Rameshwar and Satyaprakash, were arrested from Jewar area after a brief gunfight on Sunday evening.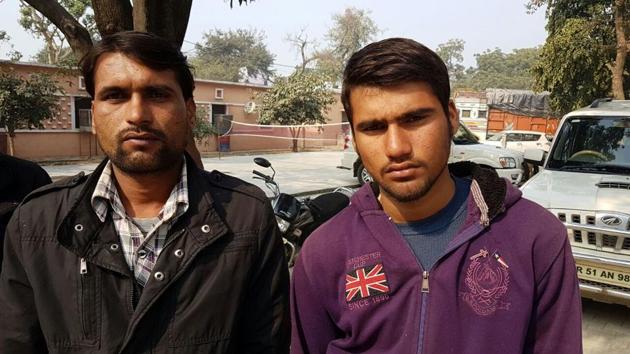 Superintendent of police (rural), Sujata Singh, said some armed men robbed the conductor and commuters after boarding a UPSRTC bus at Yamuna Expressway on December 22. They threw an axle of some other vehicle on the route the bus was plying on, forcing it to stop 2-3 km away from the Jewar toll plaza. They then boarded the bus and threatened the occupants at gunpoint. They snatched Rs26,423 in cash which the conductor had on him at the time. They also took away some mobile phones and squeezed more money out of some commuters before getting off the bus, the SP said.
"A team from Jewar police station was formed to probe the case and bring the culprits to book. Since this was first-of-its-kind incident, the police team had a tough time identifying the suspects," Singh said.
The team was informed about the movement of some suspicious persons in the area. They learned the two attackers were seen near the crime scene on the night of the incident. The cops raided their Jewar residence, but they were not to be found.The police team laid a trap near the main road that connects Yamuna Expressway to Jewar. On Sunday evening, the police team got information about the movement of the suspects on the same road.
The cops then laid a trap for them near the main road connecting Yamuna Expressway to Jewar. On Sunday evening, they were informed that the attackers had been spotted on the road.
"As the team signalled them to stop, they opened fired forcing our officers to take cover behind the vehicles. Our officers, too, returned fire and surrounded the duo forcing them to lay down their arms,"Ajay Kumar Sharma, station house officer, Jewar, said.
The duo was arrested and brought to the police station for questioning.
"During interrogation, they confessed to their role in robbing the commuters and the conductor of the UPSRTC bus. We seized a .315 bore pistol with live cartridges, Rs9,200 in cash, silver jewellery and other ornaments that were robbed," Singh said.
The two were produced in court and sent to jail.