Workshop on child rights for Noida city cops
Jan 12, 2017 11:27 PM IST
A two-day workshop is underway for the Noida city police officers in a bid to make them aware of child rights protection
A two-day workshop is underway for the Noida city police officers in a bid to make them aware of child rights protection. The event is being organised by FXB India Suraksha, an NGO which has paired up with CHILDLINE India Foundation, to work for child rights issues in the district.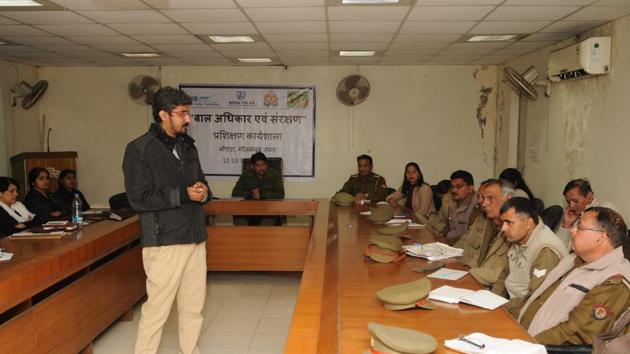 All officers dealing with cases related to child rights and juvenile justice were invited to attend the workshop at the Sector 14 A control room on Thursday. They were sensitised on the need to differentiate between three different categories of juvenile crime.
"Not all juvenile offenders are the same. The officers should learn to differentiate between the level of crimes that they are accused of. Similar punishment or treatment can't be meted out for petty crime, serious crime and heinous crime," Satya Prakash, programme manager, FXB India Suraksha, said.
The event was attented by personnel across ranks, including SP (crime) and circle officer 3. They were urged to be sensitive while dealing with juvenile offenders.
"The aim of the workshop is to make the officers not treat juvenile offenders as regular suspects. Helping the officers differentiate between the levels of juvenile crime will go a long away in making petty criminals, who number the highest, lead guilt-free, normal lives," Prakash said.
Sandeep Singh, cricle officer 3, said the need of the hour is to educate and sensitise field personnel in dealing with such cases.
"Such workshops are especially important for first responders in cases of juvenile crime, as it leads to better policing. The constables, head constables, assistant sub inspectors and sub inspectors are the first responders in most such cases and need to be updated on new laws surrounding child rights," Singh said.
The workshop will continue on Friday with personnel from each police station and anti-human trafficking unit of the crime branch.