Covid: Our outcomes are contingent on our actions
Mar 12, 2022 06:40 PM IST
While external locus of control (LOC) describes the belief that the outcome of events in one's life is caused by chance or fate, internal LOC describes the belief that actions determine outcomes
We've been living with the coronavirus for more than two years. Thanks to the vaccines, disease severity and deaths are far lower now. However, the pandemic has led to unprecedented growing global anxiety and heightened stress among people.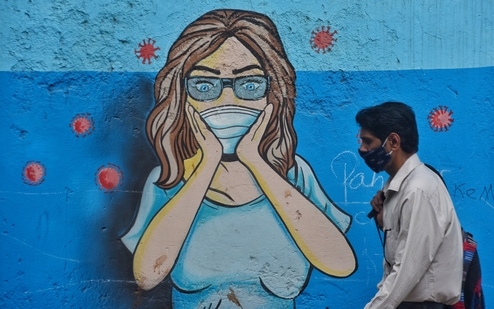 There is also a growing belief that the virus will eventually find just about everybody. The argument that catching Covid is inevitable and everyone will get it, sooner or later, is being made more frequently now, with many almost dismissing the risk associated with it. At this stage, the risk assessment and people's reactions to it vary widely; some are feeling "pandemic miserable" while others have succeeded in developing acceptance. People's adherence and risk assessment are also increasingly influenced by their individual differences.
A metric to measure this individual difference is the concept of locus of control (LOC), which describes the extent to which individuals differ in their beliefs related to their perception of control about their environment and future and believe things happen to them as consequences of their own behaviour. LOC covers two aspects. While external LOC describes the belief that the outcome of events in one's life is caused by chance, fate, or God's will, and the individual per se has no control over it, internal LOC describes the belief that outcomes are contingent on one's actions.
As such, individuals differ in their LOC such that, on one end those with high internal LOC believe that following preventive behaviour can continue to protect, and, on the other end are those with high external LOC who believe that getting infected is beyond their control.
Recent studies done on distinct populations confirm the influence of LOC on pandemic behaviour. For instance, a study conducted by Devereux et al., (2021), on a sample of respondents from the United States (US) reveals having high internal LOC is strongly related to Covid-19 preventive health behaviour adherence. In another study done in the US, findings suggest high external LOC is responsible for the perception of the pandemic as an act of God and is preventing people from getting vaccinated (Olagoke et al., 2021).
Similar results of people's external LOC influencing hesitancy to get vaccinated were observed by Pisl et al., (2021), for a study done on a sample of Czech university students. Conversely, Murphy et al, (2021) find people with high internal LOC, who believe their health is under their own control, display higher vaccine hesitancy for a study done in Ireland and the United Kingdom. However, at this stage of the pandemic in India, despite almost 90% of the adult population having been vaccinated, the perception of fear and disease severity has changed. Much of this belief can be attributed to the vaccines that are doing their job. But, altered perceptions of an individual's risk assessment may also be attributed to a growing attitude of fatalism, which is the other individual difference that can be observed. Fatalism describes the belief that one's health is externally determined and that one's actions have little or no significant impact on outcomes.
A fatalistic attitude results in reduced fear and anxiety in highly threatening situations. Fatalistic individuals tend to justify their choices by referring to fate and inevitability, and in the context of health, they are reluctant to adopt protective behaviours. Some recent studies have reported that those with fatalistic beliefs about the coronavirus are less likely to comply with preventive measures. Hence, the frequency of statements like "everyone will get it eventually" has gained traction.
So, is it okay for people to think like this at this stage of the pandemic? Do people feel less anxiety and stress with this acceptance? According to ancient Chinese cultural beliefs, a fatalistic attitude makes "unexplainable" adversities more bearable. It removes the need for blaming and develops positive acceptance.
On the flip side, we now understand this virus better and have the right tools to fight it. People must believe that even if getting infected is inevitable, people have the power to delay that eventuality, if not prevent it altogether. Further, understanding these individual differences may aid effective public health messaging.
Stakeholders must continue to encourage health messaging that highlights that people are in control and that individual actions still have the power of prevention, if vaccinated and masked. That can help control, and hopefully end, the pandemic.
Payal S Kapoor is associate professor (Marketing), FORE School of Management, New Delhi
The views expressed are personal
"Exciting news! Hindustan Times is now on WhatsApp Channels
Subscribe today by clicking the link and stay updated with the latest news!"
Click here!
Continue reading with HT Premium Subscription
Daily E Paper I Premium Articles I Brunch E Magazine I Daily Infographics