How the budget can spur India's energy transition
Janmejaya Sinha and Kaustubh Verma
Jan 30, 2023 08:16 AM IST
There is no silver bullet to drive the green switch over. But India can take a few critical steps in the financial and economic sectors, such as priority lending to the renewable energy sector and increasing the nation's share of nuclear power, to facilitate the net-zero target
In a world riven with economic and geopolitical uncertainty, the government must remain prudent while preparing the Union Budget. So, in this piece, we will not ask it for any budgetary allocations. Instead, we will ask the government for policy announcements in the budget to facilitate the clean energy transition. We picked this theme because the impact of the climate crisis is there for everyone to see, from the Joshimath tragedy, urban floods in Bengaluru and fight over water among states, to the high level of air pollution evident in our cities. The air quality index in Mumbai in early January was 390 while it was 2 in London (the scale was to run up to only 50).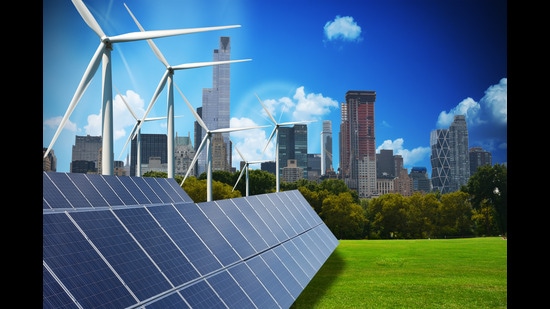 It does not matter that we did not create this climate crisis; it will hit us worse than it will hit the West. After poverty, the climate crisis must rank as the top concern for the government today. But, what must we do? The first thing is to abandon any expectation of funding from developed countries. That is not to say we should not demand it, but India should not expect it. Estimates show that India will need $10 trillion by 2070, three times the Gross Domestic Product (GDP), to fund the energy transition.
Prime Minister Narendra Modi has accepted the challenge with the announcement of the Panchamrita programme. Now, the Niti Aayog must break down the 2070 target of net zero into actionable steps required today and every five years, create a detailed plan, and allocate targets to central ministries and state governments. This will help us keep a tab on the progress of these plans.
In this piece, we suggest some critical actions required in the financial and energy sectors for the clean energy transition. In the financial sector, use priority sector lending (PSL) to support the transition. At 40% of total bank credit, PSL is around $625 billion. In its September 2020 circular, the Reserve Bank of India (RBI) has included renewable energy (RE) for PSL, but the sector nets around $5.5 billion of credit. The target must be at least $50 billion. Even the parliamentary committee has urged RBI to rethink its guidelines. The budget should indicate that need.
In addition, mechanisms should allow private organisations — as the United Kingdom (UK) and Nordic countries have done — with net-zero targets to buy green certificates for funds going to RE projects to meet their targets and subsidise funds for the transition. This should be over and above the current RE certificate mechanism, which charges the price of compliance. Likewise, to access low-cost funding from multilateral agencies, India must develop its green taxonomy that defines the sectors, the type of projects and the impact these projects will have on emission reduction to qualify for green funding.
The UK example of creating the UK Infrastructure Bank, a development finance institution (DFI), with the specific mandate to facilitate the transition to net zero, should be considered by us. India had started many DFIs in the past for project finance, agriculture, small industry, and exports, but moved away from concessional funding to market-based fundraising after liberalisation. The creation of the National Bank for Financing Infrastructure and Development shows a welcome openness to reconsider some institutions from the past in a new light. In addition, the budget should consider the formation (or conversion of some non-banking financial companies) of a dedicated financial institution to fund the transition to net zero with government support for concessional funding.
There is no silver bullet to drive India's energy transition as it aims to become a $10-trillion economy by 2035; a country with growing consumption will need all forms of energy. Sustainability will be driven by cleaner coal and refinery-efficiency improvement, and expansion of RE and e-mobility proliferation. Therefore, all energy projects henceforth must be evaluated based on economics and impact on emission reduction.
This budget should boldly highlight the inefficiency in our subsidy regime. State governments should be urged to phase out inefficient subsidies such as free power for agriculture and favoured consumer groups, a cost partially borne by industry and accompanied by loss-making state distributing companies (discoms), to facilitate the energy transition. We should consider giving farmers money through direct benefit transfer and cutting the consequent subsidy. Failing discoms with transmission and distribution (T&D) losses at 17%, twice the world average, cannot pay generators or allow them to make their plants more environmental, social, and governance-compliant with investment in flexible operations needed to increase grid stability, as the penetration of RE increases.
A national digital data stack for discoms, which brings transparency to their T&D losses, revenue gap, and cost of power procurement, will be invaluable because it will open them to public monitoring. Furthermore, the Electricity (Amendment) Bill, 2022, which proposes introducing competition among discoms, needs to be adopted. After that, discoms should be evaluated for listing to raise market pressure on their operations.
Finally, at 4% of the overall power generation, energy from nuclear power is much lower than the world average and nowhere close to countries such as France, which stands at 70%. Nuclear power is clean without the problems of intermittency that renewables have. The case against nuclear projects has been long-gestation timelines, fuel security, and risk perception. The new small modular reactor technology cuts both time and cost of nuclear projects. India must use its influence in the Nuclear Suppliers Group to secure fuel from other member-countries and increase its share of nuclear power. In this budget, the government should signal its full embrace of the energy transition. All of us who live in cities need it, just to breathe.
Janmejaya Sinha and Kaustubh Verma are with BCG The views expressed are personal
Continue reading with HT Premium Subscription
Daily E Paper I Premium Articles I Brunch E Magazine I Daily Infographics