I was part of the Saxena family: How my secular neighbourhood in UP split along communal lines
Jul 08, 2017 01:57 PM IST
The author in his subsequent visits could see the social fabric changing for worse. "Unlike earlier when we would chat about concerns of our locality, it became more about us and them," he writes.
I remember the smell of incense sticks in that room. Attending the morning aarti with folded hands, eating besan laddoo in prasad, getting a kumkum tika and rice on my forehead was my morning ritual. Saxenas used to live next to my naani's house in Bareilly, a small town in Uttar Pradesh. For me and my siblings, summer vacation in Bareilly was a celebration-of-sorts.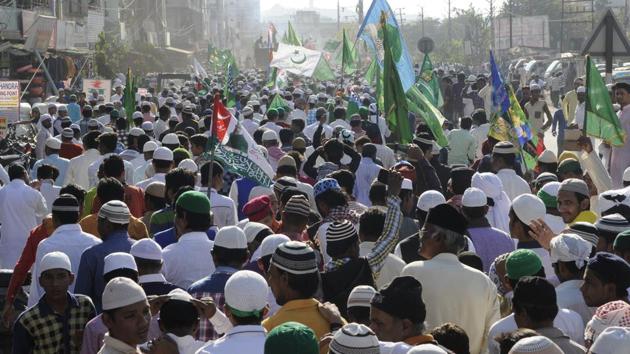 During vacations, I was virtually a part of the Saxena household. The pooja room also had a black-and-white Salora television — my earliest memories of watching Mahabharat at Saxenas' over tea, paratha and sweet and sour mango pickle, typical of UP.
Every year, I would ask my mother if holidays were coinciding with navratri. It would mean me becoming part of a group that was to receive goodies and Rs 11 on ashtami.
Cinema was a community activity. Voting would throw up names of three latest films which would then be watched back to back through the night Saxena courtyard on a rented VCR.
Every second day, I would cycle to buy samosa from a shop outside the chunne miyan ka mandir. The temple was named after the Muslim man who got it constructed. His real name was Fazlur Rehman.
Naani was head mistress in a government school, a rare feat those days for a Muslim woman from a conservative joint family. She was known as daadi in the neighbourhood. She passed away in 2002. She was 82.
At her cremation in the nearby cemetery, Hindu men from the neighbourhood, with handkerchiefs tied on their heads, outnumbered our relatives and family members. It was weird—the composition of the participants left me in tears and not naani's demise.
As I graduated to college and got a job, visits to Bareilly became less occasional.
In March 2010, my cousin phoned me to ask if I would be visiting his town to cover riots. The route of Julus-e-Mohammadi (a procession taken out to mark the birthday of Prophet Mohammad) triggered tension between Hindus and Muslims. Bareilly remained under curfew for two weeks in what was the first riot for people under 30 years.
My cousin believed that the press was not giving it adequate coverage. He sounded more saddened with what he witnessed during the unrest. One of the close neighbours was involved in arson, he said; the neighbourhood mosque was torched; and it was no more possible to believe 'them'.
When I got a chance to visit my maternal family two years after riots, I was told that which houses had become out of bounds. Good thing was that they were very few. But they were enough for my cousins to decide to relocate. I could see that any persuasion would not change their decision. "We have seen what you have not," I was told.
In subsequent visits, I could see the social fabric changing for worse. Unlike earlier when we would chat about concerns of our mohalla (locality), it became more about us and them.
Following year, they relocated to a Muslim ghetto where they continue to live. That effectively means, Saxenas are no more our neighbours.
Around five years ago, I stopped receiving rakhi from my sisters in that family. In the last two trips to Bareilly, I did not visit them. Not that anyone was keen that I should.
Visits apart, I cannot undo the best years I lived in that house. No one can take that away from me. Not my family. Not the man who, collectively, becomes the lynch mob that kill Akhlaq, Pehlu Khan and Junaid. Not the ones who patronise this man. Not the leader who would want me to look inward.