In an uncertain world, a compassionate Budget
Feb 02, 2023 03:09 AM IST
The document provides a clear vision for India at 100, with inclusivity and prosperity as central facets. Further, while acknowledging external headwinds, it pushes for domestic growth drivers to spur development.
Union Budget 2023-24 is bold in its ideas, yet conservative in its calculus, ambitious in its strategies, yet firmly anchored in reality. It successfully captures the uncertainties surrounding the global macroeconomic outlook, while providing a road map for fostering resilience and accelerating growth as the Indian economy moves towards Amrit Kaal.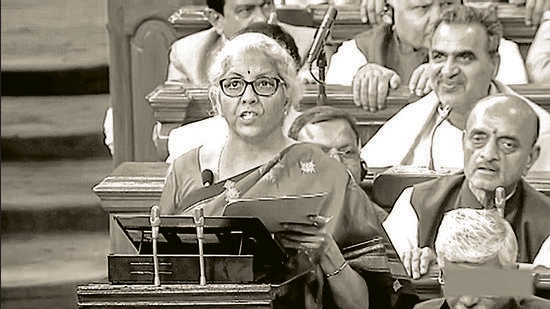 This Budget is being hailed as a Budget for all, along the lines of sabka saath, sabka vikas (with everyone, for the development of all), as it has something to offer to all sections of society. The focus of the Budget has transitioned from facilitating recovery of the Covid-affected economy in the last two years to laying down both hard and soft tracks for increasing economies of scale and ensuring long-term growth.
Also Read | No income tax up to ₹7 lakh, revised tax slabs for new regime
The document provides a clear vision, as given by Prime Minister Narendra Modi, of the kind of society India aspires to be in 2047. India@100 will rest on the pillars of inclusivity and prosperity, where "fruits of development reach all regions and citizens, especially our youth, women, farmers, Other Backward Classes, Scheduled Castes, and Scheduled Tribes." As reflected through the first two priorities of "inclusive development" and "reaching the last mile", the Budget lays out several measures for empowering vulnerable tribal groups, women, youth, and micro, small, and medium enterprises.
The Budget has a strong focus on empowering individuals and local entrepreneurs by leveraging technology, and, to a lesser extent, finance. It lays out policies for empowering our youth and helping the Amrit Peedhi (the golden generation) unlock their potential. It draws attention to the importance of skilling for youth, women, craftsmen and self-help groups (SHGs) to facilitate job creation at scale. Special mention must be made of PM Vishwakarma Kaushal Samman (PM-VIKAS) for skilling traditional artisans and craftspeople, the Agriculture Accelerator Fund to encourage agri startups by young entrepreneurs in rural areas, and sector-specific skilling and entrepreneurship development for the tourism sector under the Dekho Apna Desh initiative.
Read | Tax-Capex double engine in Union Budget 2023-24
The Budget for fiscal year (FY) 24 prioritises youth power and modern skill development through the PM Kaushal Vikas Yojana 4.0 and the Amrit Peedhi programme. The scheme will equip young people with skills in coding, Artificial Intelligence, and robotics, among others, and provide stipends through the National Apprenticeship Promotion Scheme. The tourism sector will benefit from a skilled workforce, and young entrepreneurs will receive marketing support through the proposed "unity malls" (through the One District, One Product initiative). These are all the force multipliers that the Budget wishes to unleash over time to compensate for external headwinds.
The Budget acknowledges the challenges posed by the uncertain external environment and highlights how domestic growth drivers will be critical in spurring growth. Despite global headwinds, India has managed to navigate economic risks and lead the economy on a sustained projected growth path of 7% in FY 23 and 6-6.8% in FY 24. It is true that the uncertain external environment will have a bearing on the Indian economy's growth prospects, primarily through the trade channel (via a potential reduction in exports) and the finance channel (through higher global interest rates and potentially low capital inflows).
However, growth will be driven by domestic growth drivers that are likely to remain robust and resilient, even in the face of global turbulence. These include a post-pandemic rebound in private consumption, near-universal vaccination coverage that will enable individuals to spend on contact-intensive services, the return of migrant workers to cities, higher capital expenditure (increased by 33% to ₹10 lakh crore), and the strengthened balance sheets of corporates, to name a few.
In line with this, there is a special focus on non-tradables and sectors such as agriculture, tourism, and infrastructure in Budget 2023-24. Moreover, cross-cutting themes running through the Budget are the environment and the green economy. Fostering green growth has been at the heart of the government's policy road map.
Budget 2023-24 emphasises panchamrit (five pledges), Mission LiFE (Lifestyle for Environment), the National Green Hydrogen Mission (with a Budget outlay of ₹19,700 crore), the vehicle scrapping policy, the GOBARdhan scheme that will establish 500 new waste-to-wealth plants (with a Budget outlay of ₹10,000 crore) and the Mangrove Initiative for Shoreline Habitats and Tangible Incomes (Mishti) scheme.
Union finance minister Nirmala Sitharaman's Budget provides considerable guidance to Niti Aayog in fulfilling its mandate through its own initiatives and activities. Through the State Support Mission, Niti Aayog will continue to reinvigorate its ongoing engagement with the states in a more structured and institutionalised manner.
The finance minister also emphasised the success of the Niti-led Aspirational Districts Programme and the potential of the recently launched Aspirational Blocks Programme. Niti Aayog, through this transformational programme, will focus on improving governance to enhance the quality of life of citizens in 500 blocks across the country, which currently lag on various development parameters.
These, and other activities, lay the ground for collaborative action with ministries, states and universities towards the common goal of Viksit Bharat (Developed India) by 2047.
Suman Bery is vice-chairman, Niti Aayog
The views expressed are personal
Enjoy unlimited digital access with HT Premium
Subscribe Now to continue reading