India-China ties in the near term will remain uncertain | Opinion
Oct 14, 2017 09:26 AM IST
China's political and military leaders will evaluate the Doklam face-off and plan to salvage their damaged pride
As Indian and Chinese diplomats begin repairing the bilateral relationship damaged by China's unprecedented threats and vitriolic propaganda during the over 70-day face-off at Doklam, Delhi-based Chinese diplomats led by Chinese Ambassador Luo Zhaohui are trying to portray that there is scope for "reconciliation" and "cooperation" and China and India "can dance together"! Posts on official Chinese websites displayed pictures of the invitees to the seminar hosted on September 21.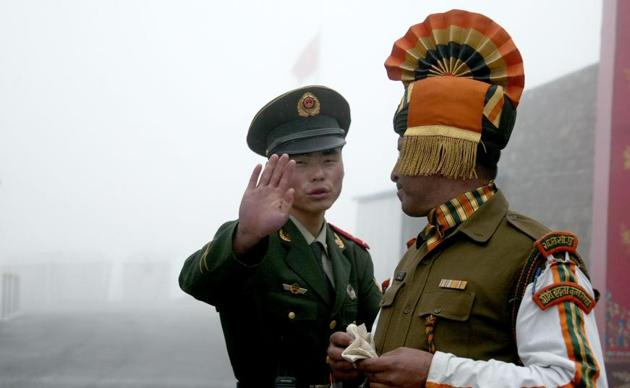 A disconnect is apparent, however, with the People's Liberation Army (PLA) and China's powerful propaganda apparatus adopting a different stance than China's diplomats. China's official media continues to allege that India is wary of Pakistan's 'rise' and that the US is manipulating India. Unlike prior to the face-off at Doklam, PLA border personnel exchanged no pleasantries or visits with Indian counterparts on China's National Day on October 1. Neither has China proposed dates for the annual 'Hand-to-Hand' exercises between the two armies, which are now unlikely to be held. At Doklam too, both armies are just 300 metres apart with reinforcements and weaponry ready in the immediate vicinity.
Stymied by the unanticipated action of Indian forces stopping the road construction, the PLA is smarting at the decision to withdraw. In all probability when India did not yield ground despite sustained Chinese propaganda using language and threats not seen in over 40 years, Chinese President Xi Jinping concluded the PLA would not achieve a decisive victory against India and agreed to the withdrawal of troops. Anything short of victory would have been a humiliation for China, the Chinese Communist Party (CCP) and Xi Jinping, especially before the 19th Party Congress scheduled to be held from October 18 to 28, 2017.
China's actions were deliberate. Certainly approved by the CCP's highest body, the Politburo Standing Committee, the propaganda offensive revealed their thinking about India. China's authoritative news agency Xinhua additionally revealed that Xi Jinping had decided in May – long before the Doklam face-off began – to dismiss General Fang Fenghui, Head of the Joint Staff Department under the Central Military Commission (CMC), because of corruption. Reports that he was removed because he instigated, or opposed, the withdrawal of forces on August 28, are incorrect. Xi Jinping also publicly flourished his control over the PLA by last month appointing long time associates to head the PLA ground forces, Air Force and new Rocket Force and appointing another 20 General officers to new positions.
The withdrawal has had repercussions inside China with clear indications that people are upset. Soon after the withdrawal on August 28, Chinese Foreign Minister Wang Yi became the first senior Chinese leader to assert that Doklam is Chinese territory and that China will resume building the road. On August 30, Yue Gang, a retired Colonel of the PLA's General Staff Department and frequent commentator on military matters, said while the events where Xi Jinping and Modi were to meet had offered a way out "there are different interpretations as to which side actually compromised more." Quite significantly, he added, "Despite Beijing's deliberate ambiguity, China has apparently made substantial concessions in order to end the dispute. India has got exactly what it has wanted. It was a humiliating defeat for China to cave in to pressure from India despite all the tough talk."
There are numerous comments on China's social media as well. Their not being deleted suggests some tacit official support. Netizens have asked why there has been no "apology" from India and whether China gave up "legitimate rights such as building the road?" Others expressed concern "whether India's withdrawal is unconditional" and asked "for a clear explanation." Meanwhile, a rumour spread in China claiming that China had purchased India's acquiescence to the withdrawal by giving it a loan of US$20 billion! Highlighting the Chinese leadership's concern, separate denials were issued by the spokesman of China's Ministry of National Defence Colonel Ren Guoqiang, spokesperson of China's Ministry of Foreign Affairs (MFA) and the CCP's official mouthpiece, People's Daily. In a widely circulated video clip the Editor-in-Chief of Global Times, He Jixin, declared the people are unhappy with the 'withdrawal'.
Significant is the article in Global Times of September 12, by serving PLA Major General Qiao Liang, who justified the withdrawal as "strategic positioning". Arguing that "only doing the right thing at the right time is correct", he added that entering into a military conflict with India at this point of time would only harm China.
India-China relations in the near term are likely to be uncertain. Until China sees it will benefit by working with India, it would be prudent to expect that China's political and military leadership will evaluate the face-off at Doklam and prepare plans to salvage its damaged pride. China will naturally choose a time and place of its advantage.