India will showcase its democratic ethos at G20
Jan 27, 2023 08:23 PM IST
By describing India as the mother of democracy, PM Modi showcased the country's democratic foundations and history, which has only strengthened since ancient times. The G20 will serve as a medium to reaffirm and showcase this distinctive Indian contribution to the world
Under the leadership of Prime Minister (PM) Narendra Modi, India will host the G20 summit later this year. During its year-long engagement with other G20 member-countries, India will showcase its multi-faceted and multi-layered development model that stands on three pillars: Development, diversity, and democracy.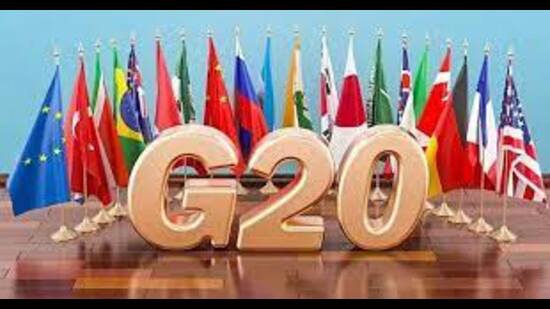 In his 2022 Independence Day speech, PM Modi called India the "mother of democracy", and that Indians must remove any vestiges of colonialism. There is a strong reason why the PM called India the mother of democracy; democratic traditions and practices have been in place in India since the Vedic period. However, during the long colonial rule, there were deliberate attempts to whitewash India's achievements. The British repeatedly pushed a narrative that India had nothing of its own and everything — science, art, literature — was inherited from them. Generations educated under the Macaulay school system started believing in this line of thought, including that the West taught us democracy.
However, history and scripture point to something different: Democracy took shape in India much before it found a home in ancient Greece. The Rig Veda mentions ganatantra 40 times, while the Atharva Veda mentions it nine times. There are examples in the Rig Veda that explain how kings ruled in consultation with allies. A king and his associates formed a group called samiti. The king's presence in the meetings of a samiti was mandatory since "Raja na satya mitiriyaan (The king who does not come to the samiti's meeting is not a true king). There are descriptions of three types of gatherings (assemblies) in the Vedas: Vidyarya sabha (education); dharmarya sabha (legal) and rajarya sabha (governance and administration). Like samitis, these assemblies were also modes of governance. There is evidence in ancient literature that substantiates this. Meetings held special significance. A meeting was not considered proper if no good people attended it. By good people, one meant those who deliberate on justice, instead of discussing issues of attachment and hatred.
The concept and practice of Jan Sadan find mention in the Shanti Parva of Mahabharata. Bhishma Pitamah explains the importance of a democratic republic to Yudhishthira: "A democratic republic is the medium of direct association with the public." Sakya, Kolio, Licchavi, Vajji, Pippalvan, and Allapvan are all examples of democratic republics during the Buddhist period.
Speaking in the Constituent Assembly, S Radhakrishnan pointed out the prevalence of the democratic practice in ancient times through a dialogue that took place more than 2,000 years ago between a king and a merchant. When the king asked, "Who is your king," the merchant replied: "Some of us are ruled by the council, some by the king".
In many countries, the democratic system emerged as a reactionary pushback against dictatorial kings and rulers. But in India, it evolved from the womb of India's deep socio-cultural ethos. This positive sense of democracy, which originated in India, is rooted in India's deep philosophical foundations.
By describing India as the mother of democracy, PM Modi showcased the country's democratic foundations and history, which has only strengthened since ancient times. The G20 will serve as a medium to reaffirm and showcase this distinctive Indian contribution to the world.
Shiv Prakash is national joint general-secretary (organisation), BJP The views expressed are personal