Pride Matters | Conquering the mental health woes of the queer community
Jun 27, 2022 07:53 PM IST
In a world comfortable only with heteronormativity, being queer is often shamed. This can lead to mental health stressors unique to the community. As a mental health practitioner, I've found ways to conquer these feelings of shame to embrace inclusivity
As I write this piece, I locate myself within the mental health system and the queer community. When I was studying psychology back in 1998-2000, the representation of people like me in psychology textbooks was pathological. There was not a single reference to my identity as a lesbian being portrayed in a positive light. I was not comfortable with my sexuality back then, and these textbooks only made things worse for me.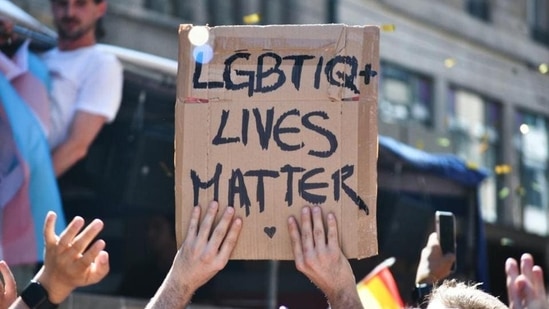 Later, I studied at a university in Mumbai that was somewhat accepting — but in a cautious, quiet way. In Mumbai, I was lucky enough to meet queer people who helped me in my journey of self-acceptance. What this part of my life taught me was the all-pervasive environment of stigma and shame that surrounds LGBTQI+ people.
Only heterosexuality, along with rigid ideas of man and woman, is considered "normal" in our society. This inequality regarding gender and sexuality has a definite role to play in the adverse mental health impacts on queer and trans people. The LGBTQI+ community lives in a society that devalues, pathologises, and erases their identities and lives daily. We can imagine then what a struggle it becomes to simply be oneself.
Over the years, I have engaged with the mental health system and queer-trans lives through therapy, research, and teaching. And with this in-depth understanding, as well as experiences of my own life as a lesbian, here is a glimpse into the lives of the LGBTQI+ community and their lived experiences in a discriminatory society like ours.
The queer community faces two kinds of stress: One, which is unique to their life, and two, from the lens of being a minority. These stressors arise because they live in a prejudiced society. The second stress, the "minority stress" (Meyer, 1995), can be understood in the context of other social and cultural minority groups. For instance, cis-gender and heterosexual people do not face either of these stressors because their ways of being largely fit the social rules that govern society.
Here is how these struggles manifest themselves in the queer community:
One, difficulties with self-acceptance: Queer-trans people grow up in a world that has no representation of their authentic selves — where literature, media, and family life often showcase only heterosexual persons and their lives. It is very hard to believe that one may be different, and that this difference is normal and natural. People often grow up feeling a sense of alienation, leading to self-hate, shame, or even disgust because they believe what the world tells them — that it is wrong to be you and to be true to yourself.
Two, the struggles of coming out: If their sexuality/gender is different from cis-heteronormativity, then, at some point, they need to face the truth about themselves and eventually, tell others. This process is known as "coming out". Heterosexual people never have to come out about their sexuality because society already has created a space for them. Coming out is stressful because the responses from others are often hostile, and even violent. Additionally, coming out is a continuous process. With every new person, every new space, a queer person has to assess whether or not to come out due to the fear of negative reactions.
Three, invisibility: Often due to this fear of negative and violent responses, LGBTQI+ people hide the truth about themselves and their lives. This may lead to them living double lives and censoring their truth. Even if they are trying to be fairly open, people around them do not engage with this part of them, leading to erasure and silence. Thus, they end up living isolated lives with little or nothing to do with the outwardly heterosexual world.
Four, the struggle of family acceptance: Typically, families find it hard to accept their queer children. Families attempt to "convert" their children into heterosexual and cis-gender persons. This leads to forced heterosexual marriages, intrusive medical interventions, "house arrests", and a similar range of responses. Covid-19 brought about the discrimination and violence faced by queer folks at the hands of their families, as they were forced to stay home due to lockdowns and restrictions on movement. Often, families stop talking to their children and throw them out of the house, rendering them homeless. Some may continue to engage with the child, but not with their sexuality. That continues to remain a taboo topic within the family. Even in adulthood, queer people often continue to be estranged from their families. In a culture like ours, imagine the tragedy of losing out on your family as a support system because they can't accept your truth.
Finally, and most crucially, systemic violence: Queer folks continue to be pathologised and devalued by health care systems, the media, policies, education institutions, science, and research. These systems try to maintain social rules (which often classify people into binaries and put them in boxes) and erase the diversity of gender and sexuality that naturally exists in our society. Representation is usually incorrect and harmful, thereby adding to the distress that queer people already face.
Since I am from the mental health field, I would like to speak directly to mental health practitioners (MHPs). And here I say to you: All bodies, genders, and sexualities are normal and natural, but you won't find this written in any psychology textbooks. I have dedicated many years of my life to fighting this prejudice in the mental health field, and I would like to invite MHPs to join the fight. I have co-authored and just launched a 500-page book, Queer Affirmative Counselling Practice: A Resource Book for Mental Health Practitioners in India, and is available on the Mariwala Health Initiative website for free. This can be your starting point to becoming responsive, and responsible, practitioners for your LGBTQI+ clients.
My appeal to everyone reading this piece: We need to recognise that mental health stressors that queer people face are not because something is inherently wrong with them. They are introduced into their lives by the negative attitudes and the rigid — and arbitrary — rules of our society. Understanding this gives every person in our society an opportunity to play a role in minimising these adverse effects.
If each of us were to try and be more open, unlearn our prejudice, read more about the LGBTQI+ community, engage with queer and trans folks in our everyday spaces, express genuine acceptance, and stand up against bullying, we won't just create a world that is a safer place for queer-trans folks, but it will be enriching and strengthening for all of us to understand and openly embrace a marginalised community.
Shruti Chakravarty, PhD, is a mental health practitioner, researcher, trainer, and social worker. Her areas of engagement have been mental health, gender and sexuality, from a rights-based perspective. She is also chief adviser, Mariwala Health Initiative.
You can find her at @pawlyamorous and @mariwalahealth on Instagram.
This is part of a special HT Premium series, spanning personal essays, reportage and analyses, to mark Pride Month
The views expressed are personal
Continue reading with HT Premium Subscription
Daily E Paper I Premium Articles I Brunch E Magazine I Daily Infographics