Pride Matters | Embracing the multitude of identities that we inhabit
Jun 27, 2022 05:43 PM IST
Through language, society's classificatory impulses have put gender into specific boxes, often forcing people who do not conform to the "feminine-masculine" binary to adhere to the socially acceptable rules of these categories. This is wrong
Our bodies are always in relation to different categories of identity. These categories (like our names, which often determine our biological sex) have become an intimate part of our life: They determine what we can and cannot do. For instance, if you identify as heterosexual, then according to the template, your homosexual desires will have to be shunned to adhere to the status quo of the "heterosexual" category.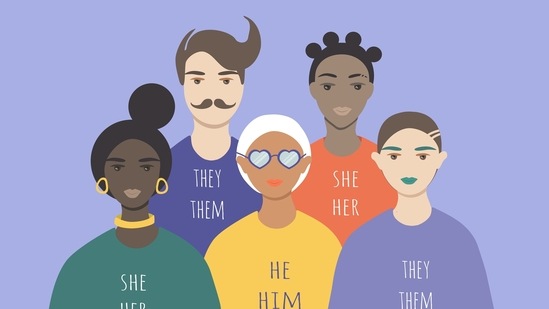 Let's use an example: Say, if you are "Rohan", then over the years you've created a template of behaviours based on your other identities. If you sway from that template at any point, you will often hear the words, "you have become different now." In this way, all kinds of categories, and their templates, hover around us, pulling our bodies into their force which constantly monitors and controls our desires that transcend the status quo. Then why are these categories or names important? What is their relationship with language? And how can we destabilise them?
Now, let's break into the politics of language and gender.
Names are essential to establish ourselves in the world. Physical (and even literary) bodies are bound to this categorisation. A physical body is assigned gender, such as male — based on the biological sex — which becomes a vital identity for the body. After this, the body is also given a name (an identity in itself), such as Rohan. Then, both the categories (male and Rohan) need to come together to form a masculine body (with pronouns he/him). So far, so good: All of us have a (legal and preferred) gender, name, a set of pronouns, and other socio-cultural identities that establish us in the world.
All these identities socially construct us and our bodies through language. But they have come to gain more power because, along with medical and legal institutions, we treat names as ontological truths about the body. For instance, Rohan's Rohan-ness, i.e., the essence of the name, tells us about the body as much as Rohan's masculinity, the essence of the category 'male' tells us about how masculine the body is. Hence, even if a body is physiologically masculine, it must be rooted in a (socio-culturally accepted) masculine name. Such are the entanglements between these categories — rooted in language — and gender.
So, how can our commitment to names and naming be ruptured? What might happen if bodies do not have a name? Or when they do not want to align with a given name? Or when they desire to have more than one name? It is crucial to think about this because biology provides a list of genitalia and hormones needed to classify a body. Similarly, socio-cultural institutions provide a list of names, pronouns, and genders, which are then classified as masculine or feminine. We already have a list of names and pronouns to choose from, if the medical institution tells us that a person is male.
However, when a person — legally, socially, and culturally — adheres to reducing their multiplicity into singularity by entering a name, there is always a spectre of contamination that haunts them.
Imagine this case: After growing up, Rohan's desires lead him to choose a predominantly feminine name, Roshni, while wanting to stay with his male genitalia — i.e., his male status — while selecting the pronoun "they". In Rohan's case, this nit-picking of various identities does not work to align different aspects of Rohan's identity (male, Rohan, Roshni, they) to form a combined whole. Instead, it works to contaminate what society treats as an essential aspect of one's life — identity as ontology (where clarity on their identity will force them into boxes). On the one hand, Rohan's Rohan-ness will be contaminated by Rohan's Roshni-ness. On the other hand, Rohan's Roshni-ness will be contaminated by Rohan's Rohan-ness. All the while being contaminated by Rohan's choice of the pronoun "they" and not "he/him/his" as prescribed by Rohan's (legal) gender.
From this example, we see how Rohan's desire to experience gender in multiple ways confuses society's categorical impulses. Rohan's identities do not match or align with Rohan's sartorial and/or physiological composition. The desire for more is essential because the law makes us believe that it is not only important to enter (socially and legally sanctioned) identity categories, but also to adhere to such categories' rules. If you are masculine, you should wear masculine clothes and adhere to other masculine ideals. And if you wish to be feminine, you must enter the feminine category through surgery or other legal measures. Because your pronouns, what you wear, and what your gender is must align in a straight line to form an unambiguous body.
In Rohan's case, India's federal judicial system provides Rohan with three possibilities.
One, to remain within the boundaries of the male category. This option will require Rohan to continue with his present name and legal pronouns he/his/him.
Two, to change his gender from male to female. In such a situation, under Section 7 (sub-section 1) of the Transgender Persons (Protection of Rights) Act, 2019, Rohan can legally and medically change their sex from male to female. This change will allow Rohan, under sub-section 2 of the Act, to issue a certificate indicating Rohan's new gender; sub-section 3 of the Act will permit Rohan to change his name to Roshni on the birth certificate. Rohan will then be known as Roshni in all legal and administrative documents.
Three, to identify as transgender. In this circumstance, Rohan can choose, according to the progressive National Legal Services Authority vs Union of India (NALSA) judgment, to "determine whether to opt for male, female or transgender classification." According to the NALSA judgment, Rohan can choose to be neither male nor female by inhabiting the "third gender" category.
While the law needs to know if Rohan is "male," "female," or "transgender," the problem in the face of the law is that Rohan may desire multiple identities. Rohan's desires — of wanting to be Roshni while wanting to be male and desiring to be called "they" — threaten to rupture society's classificatory impulses. Rather than fixing their body within the templates provided by medico-legal and socio-cultural institutions, This example shows that Rohan's desire cannot and does not aim to suture their body onto identities provided by legal categories.
North America, allegedly considered a supplier of progressive discourses on gender and sexuality, is the perfect example. People in North America change their name from A to B to never return to A. Queerness in India, on the other hand, has its logic and movement. In India, people have more than one name and comfortably shift between different names. Our desire operates in another logic, constantly influenced by myriad cultures, histories, and languages. Some Indian languages do not even have pronouns.
Similarly, when the West insists on the purity of names, Indian sensibilities respond with impurity, often mixing various names. Scholars such as Ruth Vanita, Saleem Kidwai, Madhavi Menon, and Anjali Arondekar have written about moving away from America to honour South Asia. Our land is brimming with multiple cultures and histories of gender and sexuality despite being treated as backward — in popular discourses, especially regarding conversations on gender and sexuality. It is vital to not suppress our nuances in a frenzy of catching up with the "progressive" West.
It is time for our queerness to speak back to the West by asking: What's in a name?
Roshan Roy is a recent post-graduate Ashokan scholar (ASP) in advanced English studies and research. Apart from working as an independent scholar of gender and sexuality studies, s/he is a musician from Goa
This is part of a special HT Premium series, spanning personal essays, reportage and analyses, to mark Pride Month
The views expressed are personal
Continue reading with HT Premium Subscription
Daily E Paper I Premium Articles I Brunch E Magazine I Daily Infographics