Social Justice Matters | To end manual scavenging, acknowledge caste as a factor
Dec 17, 2021 09:35 PM IST
97% scheduled castes. 1% scheduled tribes. 1% other backward classes and 0.9% others. This was the breakup of the caste backgrounds of manual scavengers
97% scheduled castes. 1% scheduled tribes. 1% other backward classes and 0.9% others.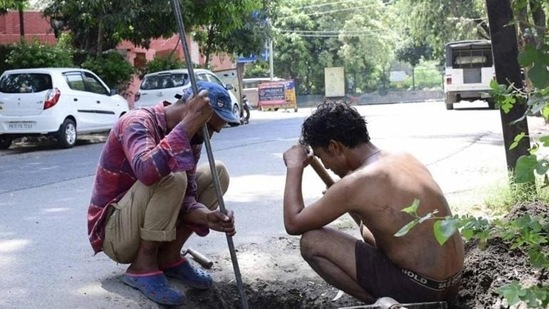 This was the breakup of the caste backgrounds of manual scavengers found by two national government surveys conducted in 2013 and 2018 – five years after the regressive caste-based practise was banned by law. The surveys found 58,098 people engaged in manual scavenging, and was able to ascertain the caste backgrounds of 43,797 people.
The data, presented in Parliament two weeks ago, underlined what has been anecdotally known for decades – that the burden of cleaning excreta and garbage by hand falls predominantly on the shoulders of the nation's most-underprivileged groups – and also provided possible clues to why it has been doggedly persistent. Because it doesn't affect powerful or dominant groups who are willing to vie for constitutional protections like quota for jobs and education, but won't protest against this perverse discrimination.
Of course, this is not new.
Every session of Parliament, a bouquet of headlines are generated from questions asked by lawmakers on manual scavenging – and responses given by the government. Every session, the Centre is asked how many manual scavengers are employed in India, or how many have died. Every session, the answer is the same – India has successfully eradicated manual scavenging, there are no people engaged in manual scavenging in India, and therefore, the question of deaths doesn't rise.
Except, as anti-caste experts and sanitation workers have repeatedly pointed out, this is a definitional sleight of hand. People are still dying from cleaning sewers and drains, often by hand and without protective equipment -- at least 321 of them have died just in the last five years, according to official data, and this is likely an undercount. The only difference is that these people are not considered manual scavengers because it is not strictly lifting human excreta from dry latrines, as mentioned in the Prohibition of Employment as Manual Scavengers Act, 2013. As a result, these sanitation workers, or safai karmacharis are largely not eligible for benefits and rehabilitation packages spelt out under the 2013 law.
Manual scavenging is one of India's foundational blots, and there is little to say about it that's not been written already. The first moves towards banning the practice began just eight years after independence but it took another 40 years before a formal prohibition. The 2013 law made punishments more stringent, and a proposed new bill promises to mechanise all cleaning of sewers and drains.
Despite the flurry of legislation, manual scavenging has resisted eradication attempts over the years, each time showing up in a new, slightly modified form. I suspect that the reason for this is the elision of the core logic of manual scavenging: caste.
In almost every region of the country, there are particular communities that are forced to do sanitation work (think of Valmikis in the Hindi heartland or the Arundhatiyars in Tamil Nadu); these are also the groups that are also socially and economically backward, have little capital or power to protest and are chronically dependent on sanitation work for survival. Any attempt to push back against these forced hereditary occupations is violence and boycott. Think of the 2016 protests by Dalits against garbage picking, and the ensuing backlash.
These communities are oppressed by the caste logic of purity and pollution that deems only certain groups can be assigned menial tasks. But any legislative effort to eradicate this evil is bereft of any understanding of this caste dynamic that underpins the system.
The solution to caste-based problems – and what problem in India is not rooted in caste – has to be conscious of how this stratification works. Why should a municipal supervisor stop a cheaper system when the caste they come from take pride in the fact that they don't clean sewers, or know that their communities are unlikely to ever be forced to do it? How can we explain allowing people to continue suffering because of a definitional gap if we don't think of this as caste-based differentiation? Simply put, powerful communities have no skin in the game.
Since independence, anti-caste thinkers have repeatedly insisted that the response to caste-based atrocities cannot simply be economic or legislative – because it leaves the underlying structure of caste undisturbed. It is this that allows manual scavenging to metamorphose into a new beast.
How can policymakers acknowledge caste? Maybe by reducing the overwhelming numbers of Dalits in sanitation while simultaneously working to fully mechanise all cleaning work, providing meaningful rehabilitation and reservation to help these communities reverse the cycle of oppression, and create programmes that target vulnerable communities for upliftment.
Manual scavenging hurts Dalits, yes, but it also sullies independent India's promise of dignity and belies the guarantees made by the Constitution of life and liberty. When young men and women die in sewers and drains, it shows that our cities are decades from being smart and our societies far from equal. This must change.
Continue reading with HT Premium Subscription
Daily E Paper I Premium Articles I Brunch E Magazine I Daily Infographics