Dear me: Desire to know, attention to detail will be key - Abhinav Bindra
Aug 11, 2017 04:32 PM IST
Abhinav Bindra tells his younger self that the Olympic dream is an obsessive search that will define him.
Dear 14-year-old Abhinav,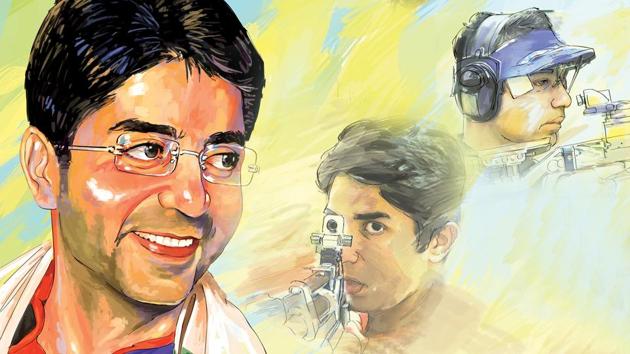 I sit here today knowing you better than you know yourself and that's what makes writing you this letter all that more difficult. But, 'difficult' has never scared you and it doesn't scare me either. Then again, I must also be careful to not say too much because this is your journey and I wouldn't want to influence the path you choose for it.
At 14, you will have already experienced quite a lot of life. You started off as a lively, gregarious kid but then slowly became insular, happier to assemble scale models of planes and ships one tiny piece at a time while the other kids ran around the neighbourhood playing cricket and football, making friends. You don't know it yet but this attention to detail, to assembly, the desire to understand how the little things work --- these are your friends and allies of the future.
READ | Dear Me: From seeing idols to playing with them, dreams come true - Viren Rasquinha
Some will call you a quirky kid but that's alright. It is your life and you will find your own way. You often say you hate sports but you are already proof that there is indeed a sport for everyone. You have experimented with many sports, maybe because Papa desperately wants you to be a successful sportsman. But it is shooting that will find you.
Colonel Dhillon who is coaching you right now will be the giant on whose shoulders you will always stand on. His will be that voice that gives you belief when you need it most --- whether at the upcoming inter-district event or the Olympics. Use every minute of every day you have with him productively.
You are fortunate to have a loving and supportive family. Papa will always be your biggest fan and will make sure no stone is left unturned in your path. Mama will play an equally important but different role in unquestioning, private ways that you will only begin to understand much later on. Divya will be the sort of sister that says enough but not too much to show her love and support. This will be your core group, in good times and bad.
READ | Dear Me: Follow your heart even if it means being an outlier - Shiva Keshavan
The support you receive from your family and the fact that your every training need is fulfilled may well be held against you if you go on to achieve success. Yours cannot be the conventional story of adversity to redemption that many usually look for. Never mind.
You do this for yourself and for what it can mean to others who understand. You will need to earn your every success and no one else can do it for you. This will make you the man you aspire to be.
You will do well enough to stay interested in shooting and will be guided by dreams of Olympic success. I will tell you no more because that would spoil the fun. If you knew how it would turn out perhaps you might not go on the obsessive search that will define you.
READ | Dear Me: Difficult roads will lead you to beautiful destinations - Jwala Gutta
You will meet many people along the way. Some who want you to succeed, others not so much. Coaches like Uwe, Gaby and Heinz will shake your foundations and help you rediscover yourself. They will show you, in their own unique ways, how little you know about shooting, and about yourself. You won't like them for it, you may even use the word "hate". But respect them you will. And learning from them is inevitable.
In the sport that you have chosen, it is obvious that you will dream of Olympic gold. No Indian has ever achieved it in an individual sport. You will be reminded of this again and again, and again. What you have the power to do could change what it means to be Indian. No pressure there, but all I want to say is that the quest is a worthy one and you are an equally worthy contender.
Medals may come, medals may go, some even by the slightest of margins. Twenty years on and having lived the life that lies ahead of you, I would like to find a good way to tell you that, at the end, the only thing that really counts is self-respect. Because that's something you need to live with not just once in four years but every single day.
May the force be with you.
With love,
Abhinav Bindra