4,200 employees of Punjab Roadways await regular jobs
Apr 23, 2017 04:20 PM IST
Even statewide strikes by contractual employees and numerous memorandums to the transport department and government has done nothing to resolve the matter.
After slogging for eight years with different private bus companies in Amritsar, 35-year-old Satnam Singh from Zira Ferozepur was lured by the charm of working for the government. That was nine years ago when he cleared the bus conductor's exam and was enrolled under the state transport department's outsourcing initiative (contractual system) in 2008. Little did he know that he will not be regularised and will have to make do with a meagre amount of ₹7,900 even after nine years of service. Poverty-stricken, Satnam is now staring at the expenditure he will have to bear for the education of his eight-year-old daughter and three-year-old son.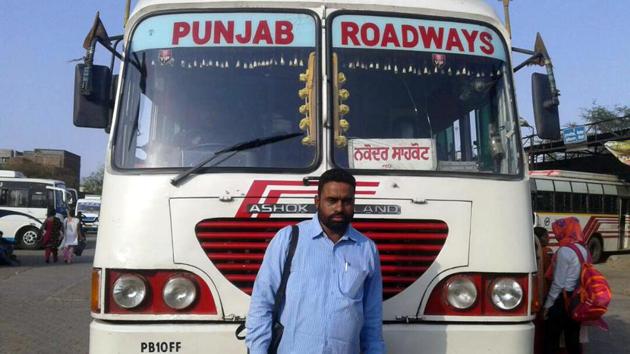 More than 4,200 outsourced employees in the state share a similar fate with a few of them receiving salaries below ₹7,000 a month. They have worked for Punjab Roadways for eight years. Of 18 depots in the state, more than 300 drivers and conductors are waiting to get regular jobs for nearly a decade in Ludhiana depot alone.
Stay tuned with breaking news on HT Channel on Facebook.
Join Now
But thousands of them are pinning their hopes on the newly-formed Congress government. With a glint of hope in his eyes and hands tucked to one side of his bus, 39-year-old driver Gurcharan Singh said, "The Captain's government promised to regularise contractual employees who have completed three years of service with the roadways within three months of assuming charge. Everything will be cleared soon and we will know whether it was just another poll gimmick similar to the previous ruling government's."
Not a single employee regularised
Stating 'mounting losses' as the prime reason, the former government which introduced the outsourcing system in 2008 did not even regularise a single employee who was enrolled under the initiative. Sources said the lone purpose to introduce contract system was to avoid paying salaries equivalent to the regular employees which was four times higher.
Even statewide strikes by contractual employees and numerous memorandums to the transport department and government did nothing to resolve the matter. A Moga-based Punjab Roadways employee, who did not wish to be named, said as long as contractors were "greasing the palms of department officials and ministers of the transport department, regularisation will remain a distant dream. The frequent strikes by contractual employees take a toll on the revenue of the state transport and once again private companies are benefitted as a result".
However, a senior functionary in the transport department said there was no clarity with regard to overhauling of Punjab Roadways as the government had not even declared its transport minister yet.
Issues faced by contractual employees
Massive gap in pay structure: According to the current pay structure, a regular Punjab Roadways employee gets minimum ₹26,000 per month, while a driver hired on contract gets ₹8,000 and a conductor gets ₹7,000
Transport policy norms flayed: The transport policy clearly states that a contractual employee is eligible for a regular job after three years of service in Punjab Roadways. But not even a single contractual employee has a regular job.
Violation of 'equal work, equal pay': In a 2016 verdict, the SC mandated 'equal pay for equal work'. Employees, daily wagers, casual and contractual employees who perform the same duties must be paid at par with regular employees. But it is not the same for even a single contractual employee in Punjab Roadways.