A year after, victims relive trauma of twin Maur blasts; demand CBI probe
Feb 01, 2018 10:15 AM IST
No political leader — neither from the Congress nor from the Akali Dal — was present at the remembrance ceremony
The twin bomb blasts in Maur on January 31 evening in 2017, that claimed seven lives, including five children, haunt family members of victims and residents of the town as well. The fact that no arrest has been made rankles even further.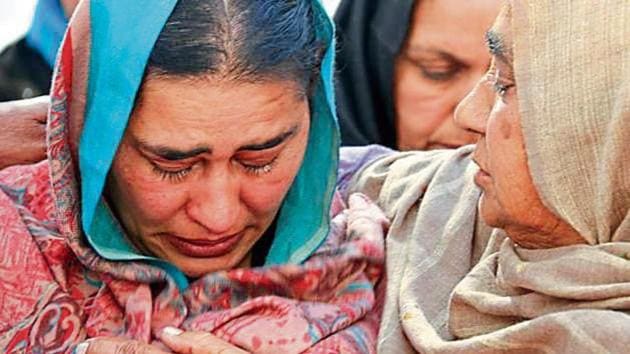 Maur Bomb Blast Sangharsh Committee, an organisation fighting for justice for the victims, held a bhog to remember those dead and has decided to seek a Central Bureau of Investigation (CBI) probe into the matter. Tellingly, at the remembrance ceremony, no political leader — neither from the Congress nor from the Akali Dal — was present. AAP MLA from Maur, Jagdev Singh Kamalu, attended the event and alleged a conspiracy behind the blast that the government had failed to investigate.
Praveen Kumar, a member of the Sangharsh Committee, said: "Next year, leaders of all political parties will converge to pay homage to the victims as Parliamentary polls will approach. Then, we will question them."
Must read | Maur blasts: Survivors, witnesses recall moment of horror
The case
Seven people, including five children have been killed, while 12 were injured in the bomb blasts in a Maruti 800 car in Maur on January 31, 2017, evening shortly after the rally of Congress candidate from Maur assembly segment, Harminder Singh Jassi, in Punjab assembly elections.
Though the shrapnel had hit Jassi's vehicle, he had escaped unhurt.
Those dead included Harpal Singh Pali, office manager of Jassi; rag-picker Ashok Kumar, 40, and his daughter Barkha, 12; Japsimran Singh, 14; Ripandeep Singh, 10; Saurav Singla, 13 and Ankush Singla, 13, died during treatment at a private hospital in Ludhiana on March 31, last year.
Attempts to find out who owned the 1992-model Maruti Suzuki 800 car in which blasts were triggered have failed, while no clue has yet been found from the unexploded pressure-cooker bomb that was recovered at the blasts site.