Congress govt has no control over anything, says Sukhbir Badal
Apr 14, 2018 08:28 PM IST
"Nothing like a government exists right now in the state," says the SAD president.
Against the backdrop of infighting between Punjab Police top brass and many Congress MLAs, reportedly unhappy with government functioning, Shiromani Akali Dali (SAD), on Saturday, claimed that the government had no control over state machinery.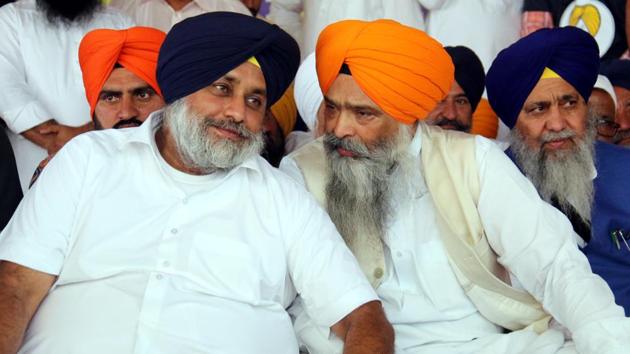 Addressing a gathering during the Baisakhi Mela political conference in Talwandi Sabo, SAD president and former deputy chief minister Sukhbir Singh Badal said, "Nothing like a government exists right now in the state."
"The situation in Punjab has turned so bad that there is no control of the state government over anything. Offices, including the police, are working on their own," he added. "I have never seen such a helpless government. Nobody knows whose orders to follow. The ruling party's MLAs and the Punjab Congress president are ruing that they are unable to meet chief minister Captain Amarinder Singh. How can a CM who does not meet his party MLAs address your problems," he added.
"Not a single penny has been spent on development since government formation. Names of many beneficiaries have been removed from the atta-dal scheme and for social security pension. The only hope of people now is the SAD-BJP," he claimed.
Wishes people on Ambedkar Jayanti
Sukhbir and his wife union food processing industries minister Harsimrat Kaur Badal, wished people on the birth anniversary of the chief architect of India's constitution Bhimrao Ambedkar.
He demanded the removal of Navjot Singh Sidhu from state cabinet over the road rage case, after the state government's stand in the Supreme Court.
On the Special Task Force report that says that his brother-in-law, Bikram Singh Majithia, had a "role in facilitating supply of a drug pseudoephedrine to two Canadian NRIs Satpreet Singh alias Satta and Parminder Singh alias Pindi", Sukhbir said the matter was sub-judice.
However, he claimed, "Everybody is aware about STF head ADGP Harpreet Singh Sidhu's enmity with the Majithia family." He added that the CM's announcement of appointing Congress MLAs as legislative assistants to ministers was an attempt to keep the disgruntled MLAs with him.
Sidelights
In their address, both Sukhbir and Majithia targeted former Bathinda zone inspector general of police Mukhwinder Singh Chinna. They claimed that corruption had been order of the day under the officer.
Majithia targeted finance minister Manpreet Badal terming him a duplicate Badal and for alleged "goonda tax'" collection from Guru Gobind Singh Refinery terming it "Jo Jo" tax, targeting Manpreet's brother-in-law, Jaijeet Singh Johal, who is also known as Jo Jo.