Haryana cops search Bathinda house where Honeypreet hid for a week
Oct 12, 2017 12:12 PM IST
 Village sarpanch Nirmal Singh was also present during the search.
A team of Panchkula police on Wednesday brought Dera Sacha Sauda head's 'adopted daughter' Honeypreet and her aide Sukhdeep Kaur to a house at Jangi Rana village in the district where the two are believed to have stayed for a week.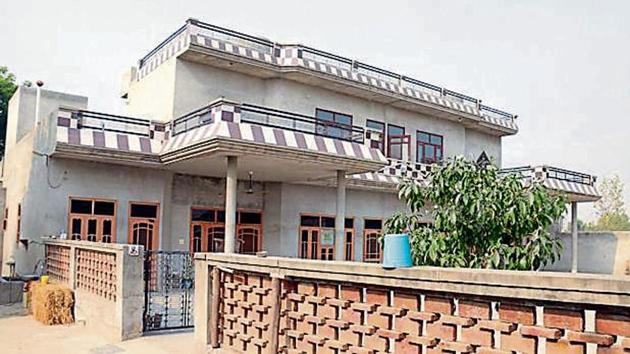 Honeypreet was on the run in connection of August 25 violence in Panchkula after the dera head Gurmeet Ram Rahim Singh's conviction in a rape case.
The team led by assistant commissioner of police Mukesh Kumar searched the house belonging to Gurmit Singh (28), the cousin of Sukhdeep's husband Iqbal Singh.
Iqbal, a native of Balluana village here, now lives with his family in Haryana's Sirsa for the past several years. The family is considered close to the dera. Dera's second head Shah Satnam Singh too had visited their Balluana house in the eighties. The Haryana cops informed their Bathinda counterparts only after they had completed the search at the house.
The police questioned Gurmit's mother Sharanjit Kaur who was alone at the house as Gurmit had gone to Ludhiana for his wife's treatment.
Village sarpanch Nirmal Singh was also present during the search. "Sharanjit told the police that Honeypreet along with Sukhdeep stayed in their house for about a week. She wasn't aware that woman with Sukhdeep is Honeypreet. She said as soon she came to know about it, she asked them to leave the house," the sarpanch said.
Sharanjit had gone in hiding soon after cops left the house. Mukesh Kumar couldn't be contacted despite repeated attempts to verify what the sarpanch told media.
The Haryana police had brought the two to Sukhdeep's in-laws' house at Nayi Basti in Bathinda city last Thursday. But the team returned dejected as they got no clue of the two having stayed there.
They, however, haven't taken the two to Balluana where Honeypreet is suspected to have stayed. Iqbal's uncle Resham Singh stays in Balluana house with his family.
Bathinda senior superintendent of police (SSP) Navin Singla said the Haryana police hadn't informed that they brought the two women here and they visited the Nandgarh police station only after they had completed the search.
"The police from other states can conduct search without prior information. They didn't share any information with us," he said.