NGOs team up to fight stubble burning in Punjab
Hindustan Times, Bathinda |
Sachin Sharma and Surjit Singh
Sep 14, 2018 10:06 AM IST
Groups such as the Association of Active NGOs (AAN) in Bathinda district have domain experience as they played a proactive role in managing stubble without burning it last year, too.
The momentum is building up in Punjab's paddy fields with stakeholders, including the central and state governments, agricultural universities, machine manufacturers and non-governmental organisations (NGOs), gearing up to educate and equip farmers against stubble burning after the harvest in October and November.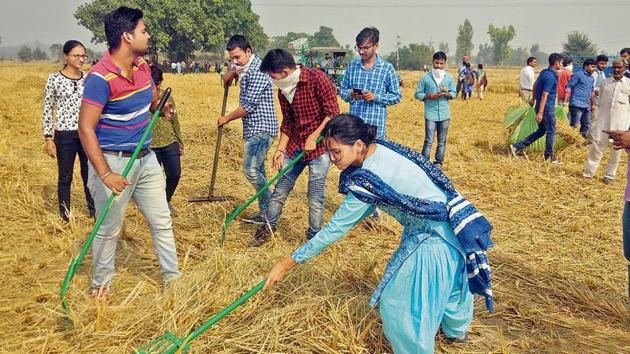 Groups such as the Association of Active NGOs (AAN) in Bathinda district have domain experience as they played a proactive role in managing stubble without burning it last year, too.
AAN coordinator Sandeep Aggarwal says that for more than 20 days in October and November last year, activists worked in villages collecting the stubble that was transported in tractor-trailers to be kept at a common place from where it was taken to biomass power plants and cow sheds.
"NGO workers in teams of 20-25 managed the stubble from more than 4,000 acres of paddy fields in the villages of Behman Dewana, Gobindpura, Balluana, Behman Dewana, Bir Talab, Bir Behman and Har Rangpura," he says. They found that farmers want to get rid of the paddy stubble in an environment-friendly way too but are not in a position to spend on the machines. "When we deployed our volunteers, they readily joined us. They provided their tractors and equipment," he says.
Bathinda tehsildar Sukhbir Singh Brar says the administration played the role of a coordinator in this campaign.
Also read: Bracing for stubble trouble: How Punjab plans to stop the fire
Holistic approach
NGO Kheti Virasat Mission (KVM) has been running a campaign against crop residue burning for eight years.
"The scale at which commodity of great value is being converted to fumes has far-reaching implications. It engulfs public health and causes economic losses," says Umendra Dutt, the executive director of KVM, based at Jaitu.
Besides organising public dialogues across Punjab to motivate farmers against stubble burning, the KVM runs vans in villages that distribute printed material to farmers to generate awareness.
"Straw burning should be seen in a context that is an intersection of the broader agricultural paradigm, the cropping systems specific to Punjab and forms of technologies adapted. The problem is ingrained in the system, hence it calls for a systemic approach and not quick fixes," he says.
Among the solutions suggested are mulching, composting, incorporation into soil, using as cattle feed, animal bedding, biogas/bio CNG, and baling. "We evolve the solution with the involvement of farmers," adds Amar Singh Azad, the research director at KVM.
Farm tool bank
The Young Inventive Farmers' Group set up a farm tool bank in Qadian block of Gurdaspur for Rs 25 lakh with assistance from the government last year. The group bought Happy Seeders and rotavators to rent out to farmers. Group president Avtar Singh Sandhu says the group succeeded in getting farmers to give up stubble burning after this year's wheat crop was harvested in 500 acres at Bhambari in Qadian, Sallopur in Kahnuwan and Sahari in Dhariwal block.
Biomass plants offer hope
The three private biomass plants in Muktsar and Fazilka districts offer an environment-friendly alternative to the stubble burning challenge. There are two such plants in Muktsar, namely the Malwa Biomass Plant at Gulabewala and the Universal Biomass Plant at Channu village. The third is at Gadda Dob village of Fazilka district.
Balers are used to collect paddy stubble from the fields. The machine takes an hour to make bales out of straw in one acre of paddy field. On an average, one acre produces 12-15 quintals of bales, which are then sold to biomass plants for Rs120 to Rs 130 a quintal.
Dinesh Bhardwaj, assistant manager at the Gulabewala plant, says, "In the last season, we bought about 1.2 lakh tonnes of stubble, which was used to generate electricity after processing. We sell the electricity to the power department."
Narinder Singh Bhullar, the general manager of the biomass plant at Channu, says, "Farmers can earn well by selling the bales. The problem of pollution will also be tackled."
Also read: Machines to manage 40% of paddy stubble in Punjab
'Working day and night to bring positive change'
Several non-governmental organisations (NGOs) are working in the fields of Punjab this paddy season to motivate farmers against burning the crop residue to check air and soil pollution. Assistant editor Gurpreet Singh Nibber spoke to Ritesh Bhatia, the chief executive officer of India Paryavaran Sahayak (IPS) Foundation that has reached out to 50,000 farmers in the state. Excerpts:
We are nearing the paddy harvest season in Punjab. What has been your experience working in the fields with farmers so far?
We started working with the farmers four months ago. I feel there is going to be a positive change this time and we will see a steep fall in paddy stubble burning. Machines and technology are rolling in with the intervention of the state and central government agencies. NGOs are also working day and night to bring a positive change. Farmers have understood the ill-effects of stubble burning and the benefits of not burning the residue.
What has been your role in this movement?
We are working on two fronts. One is mass awareness generation for which the activity is going on through multiple channels. We are using multimedia and meeting farmers personally to motivate them against stubble burning. We have the support of the state agriculture department, corporate houses and Krishi Vikas Kendras of Punjab Agricultural University. Two, we have formed 60 self help groups led by a 'change buddy', a farmer who has adopted good farming practices and stopped stubble burning. The 'change buddy' motivates a group of 10-12 farmers by helping them get rid of the crop residue. We are supporting these groups financially.
How big is your NGO's reach?
We have reached out to 158 villages in five districts of Punjab. We have covered 1.8 lakh acre under paddy in Rupnagar, Fatehgarh Sahib, Hoshiarpur, Sangrur and Barnala.
What challenges do you see when harvest begins next month?
Due to the delay in paddy transplantation by five days from June 15 to 20 this time, farmers are under pressure this time because they will have a shorter window to prepare their fields to sow wheat. Farmers cite this short period as the reason for burning paddy stubble. They find it the easiest and fastest way to dispose of the straw. This is the first year when the central and state governments have come out in direct support of farmers. It may take more time than expected for machinery and technology for managing stubble to reach the farmers.
(Inputs by Kamaljit Singh Kamal and Sarbmeet Singh)