Show courage to prosecute us, Badal dares Amarinder
Hindustan Times, Abohar (Fazilka) |
, Abohar (fazilka)
Sachin Sharma and Gaurav Sagar Bhaskar
Sep 10, 2018 09:48 AM IST
Terms Akali Dal as saviour of Panth, says can sacrifice millions like him and even more Sukhbirs to safeguard the honour, dignity and glory of Guru Granth Sahib.
At his first public rally after being indicted by the Justice Ranjit Singh (retd) panel for police action at Kotkapura in 2015, Shiromani Akali Dal (SAD) supremo and former chief minister Parkash Singh Badal on Sunday dared his successor Captain Amarinder Singh to demonstrate courage to prosecute and try him in a court of law "if there is any shred of truth in your allegations" on the sacrilege issue.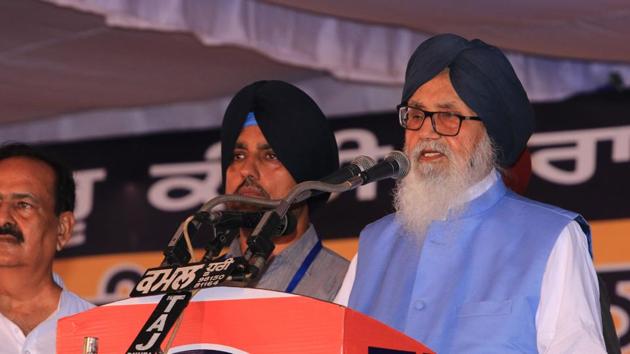 "If you have moral and political courage, take us to court on the basis of whatever evidence you can cook up against us," Badal said at a rally in Abohar on Sunday.
The rally was organised following Congress challenge to SAD daring its leaders to enter villages of the state after the Ranjit panel report. As state Congress chief and Gurdaspur MP Sunil Jakhar has been leading a tirade against the Badals, particularly Sukhbir Badal on the issue, SAD and its ally BJP chose his home turf to target the government.
The Ranjit panel report on sacrilege of Guru Granth Sahib and subsequent firing by cops on Sikh protesters in 2015 was tabled in the state assembly last month.
The former CM, 93, who has been avoiding public appearances in view of his poor health, launched a scathing attack on Congress and the Amarinder government saying: "I have come in public after a long time and it's because I fear that peace and communal harmony was in danger in the state. Amarinder blasphemous tirade against the SAD on the sacrilege issue is merely an attempt to divert people's attention away from his own crime of sacrilege by making false promises while swearing on the holy gutka," he said.
"Amarinder is indulging in petty and destructive vendetta politics to divert public attention from the failures of his own government on every front, including farm debt waiver, drug peddling eradication, jobs, and increased old-age pensions," the veteran leader said.
"Guru Granth Sahib is dearer to us than our lives. We can sacrifice millions of Badals and countless millions of Sukhbir Badals just to safeguard the honour, dignity and glory of the sacred Guru Granth Sahib. How can those who rolled tanks into the sacred Harmandar Sahib understand our devotion to Guru Granth Sahib?" he said.
On Congress' challenge to SAD daring its leader to enter villages, Sukhbir Badal said the Akali Dal's flag was flying high not only in Jakhar's village Panjkosi but also in Abohar. A group of people also protested against SAD and the Badals and showed black flags to them on way to Abohar.