Wheat straw burning cases drop by 70% in Ludhiana district this year: Pollution control board
May 11, 2017 01:07 PM IST
Even as the wheat harvesting period is drawing to an end in the district, environmentalists and pollution regulation bodies have said there was a substantial 70% drop in cases of stubble burning this year when compared to the cases last year.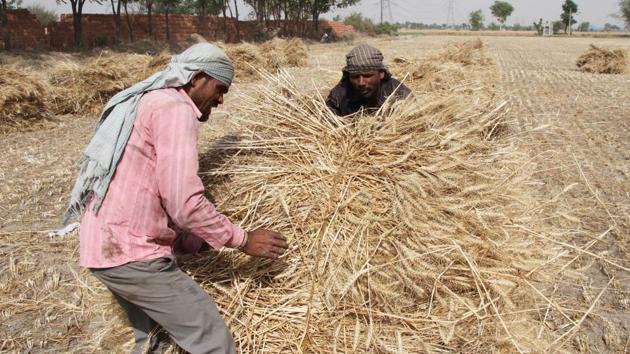 Increased monitoring through round-the-clock satellite tracking by Punjab Pollution Control Board (PPCB) and heavy penalties may have been instrumental in deterring farmers from carrying out the illegal practice this year.
Stay tuned with breaking news on HT Channel on Facebook.
Join Now
Monitoring against wheat straw burning by PPCB was negligible until last year. However, a strongly-worded circular by National Green Tribunal (NGT) directed all the pollution control boards to take concrete steps to curb the menace. A total of 496 notices have been issued between April 10 and May 10 to farmers who were illegally burning wheat straw.
A Jalandhar-based renowned eco-activist, Balbir Singh Seechewal, said, "Owing to anticipation and preparedness on part of pollution regulation bodies, wheat straw burning incidents saw a drop by 70% this year. While the authorities were primarily concerned about wheat straw burning, increased vigil and heavy fines have deterred many a farmer in the state to not burn stubble."
Talking about his tehsil, Shahkot, he added, "The frequent sight of smoke-filled skies and flames during the night were rare in our area this year."
The SMS alert system from remote sensing department have aided in identifying violators in real time so that there is sufficient time to take necessary action against farmers who burn straw. The department will stretch the exercise of issuing notices for another week this season.
"Working in close liaison with patwaris of the land revenue department was of immense help. It eased the identification process, and we did not have difficulty in serving notices to violators within a short time," said Vicky Bansal, assistant environmental engineer, Ludhiana.
After this wheat harvesting season was over, Ludhiana range of PPCB received alerts for wheat straw burning ranging between 10 and 90 on a single day while there were days when not even a single incident was reported.
No challans were issued in 2016 due to a lack of surveillance but challans against violators this year resulted in a substantial drop in wheat straw burning cases.
Balwinder Jagga, a farmer from Kila Raipur village, admitted that wheat straw burning incidents witnessed a 60 to 65% drop in his area. However, he said, "Curbing pollution levels is an environmental obligation for all sectors. Targeting the agricultural sector alone by imposing such intensive measures is not justifiable. Nevertheless, the move by the pollution control board must have reduced pollution levels, but sowing paddy this season will be an expensive and time consuming affair for thousands of farmers in the state."