World Environment Day: Ludhiana's pollution level continues to soar
Jun 05, 2017 01:09 PM IST
Green parks at Focal Point have turned into dumps of toxic waste; PPCB official says one instance can't decide pollution level
Year after year we continue to observe World Environment Day, but things have barely improved for the industrial city Ludhiana. After being ranked the 12th most polluted cities in the world in terms of air pollution by World Health Organisation (WHO) in May 2016, there have hardly been any concrete steps by the Punjab Pollution Control Board (PPCB) to bring down the pollution level.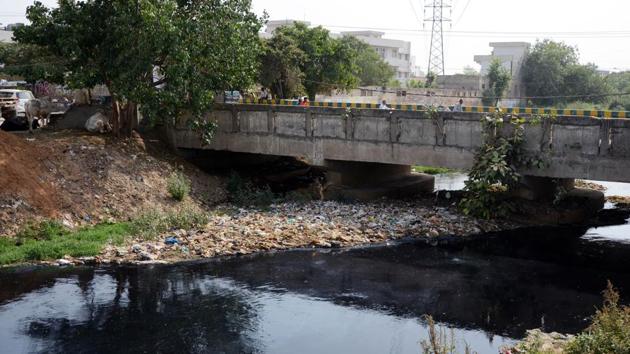 Sprawling in 2,500 square yards amid industrial units, what was a lush green park where kids of workers played six years ago at adjoining Phase 5 and 6 at Focal Point, now has been turned into a pond of toxic industrial waste.
Stay tuned with breaking news on HT Channel on Facebook.
Join Now
Despite it being in full public glare, PPCB officials are playing mute spectator to the violation. The illegal practice is on for over two years and it has been highlighted by Hindustan Times several times but the authorities remain unmoved.
Talking to HT, PPCB Ludhiana chief engineer Gulshan Rai denied the practice being on a large scale. "On the basis of one instance, we cannot decide that pollution level in Ludhiana is increasing. We have taken measures to ensure that smoke emitting industrial units install filters," he said.
He added, "To ensure maximum compliance to the pollution norms, we have issued notices to the 217 electroplating and dyeing units in one year for not adhering to effluent treatment guidelines. Currently, there are around 1,500 industrial units which are getting their effluents treated at the common effluent treatment plant (CETP)."
However, the data acquired from the Chamber of Industrial and Commercial Organisation puts the total number of effluent generating units including auto parts, electroplating and dyeing at approximately 3,500 in the district.
HT's team discovered that an open space at Focal Point Phase 4 and Phase 5 surrounded by over 18 manufacturing units was filled with 'untreated' toxic water. The firms here are of tyre-making, cycle chain making, iron rod firms and nut-bolt firms.
"Despite being aware about the menace and its impact on the environment, authorities' apparent lack of seriousness can directly be linked to owners of these units greasing their palms on regular intervals to remain out of radar. So they see a threat to their money making prospects," said an industrialist requesting anonymity.
Anti-pollution crusader Balbir Singh Seechewal said, "The manufacturing units need to carry the effluents to their respective treatment plants by tankers to get it treated. PPCB officials need to take a serious view of the issue and must resolve it on priority."
Moreover, for decades most part of the Focal Point area has seen overhauling of its sewerage system and as a result, water either from the residential areas or that discharged by industries often comes to the surface. "Installing sewerage treatment plants (STPs) at several areas in industrial area where liquid waste is discharged is the solution to the problem," said an industrialist.