Rajinikanth: his signature style
Hindustantimes.com |
, New Delhi
Sweta Kaushal
Aug 05, 2013 06:59 PM IST
Rajinikanth is an iconic figure who has millions of fans worshipping him as God! Thalaviar, as he is popularly known, has a unique style. We explore.
The man born as Shivarjirao Gaekwad, who started off as a bus conductor, has went on to win millions of hearts with his style and is now popular among his fans as Thalaivar (the boss).
Rajinikanth - actor, writer, producer politician and superstar - has a signature style. In fact it's not 'a' style - it is a fashion school in its own right.
Interestingly, Tamil actors are not the only ones aping Rajini styles - his techniques are also adopted in Bollywood.
Recently, Shah Rukh Khan, Deepika Padukone and Rohit Shetty teamed up with rapper Honey Singh to pay tribute to Rajinikanth with the song Lungi Dance.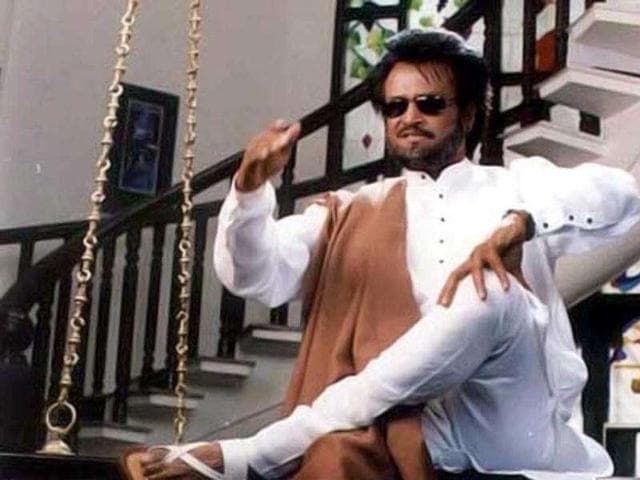 Let us revisit some of Rajinikanth's signature stuff.
Rajinikanth has never worn goggles simply the way we do. He has a distinct way of flipping it from elbow level and it rolls a few times before it sits perfectly on his face. The style has not only been copied by Tamil actors but Bollywood actors like Govinda have also aped his style of putting on shades.
Just like his goggles, the actor's cigarette goes rolling in the air before it reaches the right spot and places itself on his lips.
In films like Geraftar (a 1985 film where veteran actors like Amitabh Bachchan, Kamal Haasan and Rajinikanth came together on screen for the first time), Rajnkanth's smoking scenes are a treat.
Stay tuned with breaking news on HT Channel on Facebook. Join Now
Click to join.
After flipping his cigarettes to the lips, Rajini is seen lighting them with his revolver. He fires pointing at the tip of the cigarette and lights his smoke.
Normally Indian film heroes begin their fights with either a warning to the villain or a commitment to his friends/family/heroine. Not Rajinikanth. He has a punch-line to begin a fight and end it too. One of the most famous ones is from Sivaji The Boss: 'Kanna Panningadhaan Kootamaa Varum, Singham Single Aaa Dhaan Varum '(Kid! Pigs come for attacks in groups, lions attack alone).
Rajinikanth does not use combs in reel life. His hands to the job!
Rajinikanth is said to love white. He is often seen sporting white clothes in his films. Even in his real-life, he is frequently seen wearing whites.
Another interesting and iconic dressing style of Rajinikanth is his Thundu (roughly translated as a stole but far broader and bigger in dimensions). He drapes a white Thundu, embroidered in gold neatly folded on his shoulder. Typical Rajini style, this Thundu too, is flipped into folds before resting on his shoulders. He kept the trademark Thundu in his Bollywood film Bulandi (2000).
Some of Rajinikanth's dialogues are epic and used frequently in films. Here are a few:
Kanna Panningadhaan Kootamaa Varum, Singham Single Aaa Dhaan Varum (Pigs come in groups, lions attack alone!, in Sivaji the Boss )



Naan Oru Dhadava Sonna Nooru Dhadava Sonna Maadhiri (When I say once, it is equal to 100 times, in Baatsha)



Jijoopi (It is a child's play for me)
We must have missed few Rajini's iconic styles. Share the ones you can point out in the comment box below.