New penguin colony found in Antarctica, courtesy bird poop: Report
Jan 23, 2023 11:41 AM IST
Although discovered in December, the announcement was delayed to coincide with Penguin Awareness Day on January 20.
After spotting bird poop using satellite mapping technology, British scientists are reported to have found a never-before-seen emperor penguin colony at Verleger Point in West Antarctica. The brown-coloured droppings were easily identifiable as a stain on ice, as per researchers. The frozen ice guano is not smelly, unlike the pungent smell of penguin colonies that breed on rocks.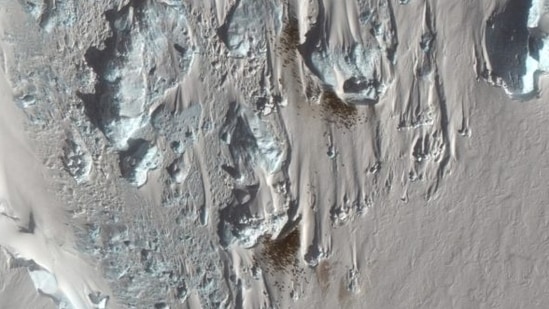 Although discovered in December by a geographic information officer with the British Antarctic Survey (BAS), the announcement was delayed to coincide with Penguin Awareness Day on January 20. Housing around 1,000 adult birds, in 500 pairs with their young, there are only 66 emperor penguin colonies known to exist on the Antarctica coastline, half of which were discovered through satellite images. According to a report published on Live Science, Peter Fretwell, the officer, spotted the guanos (penguin poop) while studying the European Space Agency's Copernicus Sentinel-2 mission. Higher resolution photographs taken by the Maxar WorldView-3 satellite showed the emperor penguins as tiny dots and confirmed the newly-discovered colony.
Stay tuned with breaking news on HT Channel on Facebook.
Join Now
Located in extremely remote and inaccessible areas, BAS scientists, for the last 15 years, have been in search of guano stains of the emperor penguins, which have been marked as a threatened species. Since they breed only on sea ice, which is declining amid global warming, Fretwell has predicted that at least 80 per cent of the breeding colonies will vanish by the end of the century. However, recent research states that there could be nearly 20 per cent more emperors in the Antarctic than previously thought.
Coming up to around 100 cm in height and weighing 45 kgs, emperors are the largest and heaviest in the penguin family. Their majestic name is derived from the royal black, white and yellow plumage. Spending most of the summers diving for fish and crustaceans, they breed on sea ice during the winter months when temperatures can be as low as minus 60 Celsius.