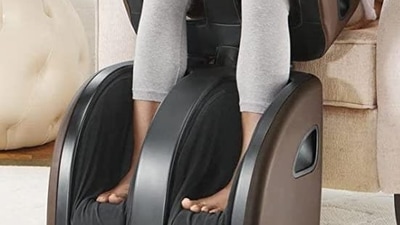 Leg massagers help alleviate pain and provide relief.
Massaging your body parts is always an experience we look forward to. It is indulgent, therapeutic and helps relieve pain which at times we don't even realise exists. One of the sought-after devices is a leg massager. It is designed to relieve muscle tension and improve blood circulation in the legs. There are many types in this namely calf massagers, foot massagers and full leg massagers. Some common features that come in these devices are heat therapy, air compression, vibration, and rolling massage. It is important to choose a leg massager with adjustable intensity and suitable for your specific needs.
We have rounded up a few leg massagers from Amazon. They come with promising features and you may end up loving them. Scroll down to read more about their features and benefits, and don't forget to add one of them to your cart. These devices also make for a great gifting option.

Dr Physio Electric Full Body Massager For Pain Relief
This is a lightweight and portable device. This is a handheld massager with four massage heads in total. The latter helps in delivering deep tissue massage for relieving pain naturally. It comes with an ergonomic handle and it produces light vibrations that stimulate the blood flow to make you feel more active and energetic. You will love how the device will deliver light and steady pressure to relieve tension, anxiety, muscle soreness, chronic pain, knots tension, sports injuries and more.
RENPHO Corded Electric Leg Massager
You will love using this full-leg massaging device. Its massage rollers help relieve pain from calf and thigh muscles and knee area. It boosts blood circulation. An easy to use device, it uses a heat massage system, in which carbon fibre applies a thermal massage to the thighs and ankles. The vibration massage further relaxes tension and helps muscles recover. It will offer you a soothing and indulgent experience.
JSB HF05 Leg Calf & Foot Massager
This leg, calf and foot massager is an easy to use and user-friendly device. It promotes blood circulation and proves to give you a therapeutic experience. It is a portable device. You can effectively massage your foot, ankle and calves to get rid of pain. It is made of acrylonitrile butadiene styrene material and is available in black colour with silver coating on it.
Amazon Basics Electric Device for Leg & Foot Massage
This leg and foot massager electrical device will soothe and relax your legs, calves, feet, ankles and toes. It is a sturdy and durable device that comes with a power control panel with power. It features buttons to change the massage intensity on the calves or the feet separately. It comes with 3 speeds to set the vibration intensity and indicator lights which signal current speed. There's also a heat mode with three massage modes.
AGARO Magma Air Compression Leg Massager
This air compression leg massager will help in relieving pain from feet, calves and thigh area. It is designed to improve blood flow. A lightweight device, you can carry it from one place to another without any hassle. Available in black colour, this one comes with three massage modes and three massage intensities. You will simply love this device. It is also user friendly.
Price of leg massagers at a glance:
Leg massagers
Price
Dr Physio Electric Full Body Massager For Pain Relief

₹

2,500
AGARO Rejoice Foot, Calf and Leg Massager

₹

19,995
JSB HF05 Leg Calf & Foot Massager

₹

21,500
SOBO Leg Massager Machine

₹

37,999
Amazon Basics Electric Device for Leg & Foot Massage

₹

39,999
At Hindustan Times, we help you stay up-to-date with the latest trends and products. Hindustan Times has an affiliate partnership, so we may get a part of the revenue when you make a purchase. We shall not be liable for any claim under applicable laws, including but not limited to the Consumer Protection Act, 2019, with respect to the products. The products listed in this article are in no particular order of priority.