I make better decisions now, says Lallianzuala Chhangte
Jan 28, 2023 06:30 PM IST
Most effective Indian in ISL, says India head coach Igor Stimac of the Mumbai City FC player with nine goals and five assists.
Till the 80th minute on Friday, it looked like Jamshedpur FC would do to Mumbai City FC what no team could in the 2022-23 edition of Indian Super League (ISL): beat them. Then, Bipin Singh shook off the challenge from two players and played the ball in the box. As the Mumbai City FC wide left was about to do that, Lallianzuala Chhangte started a short run towards the goal from inside the penalty area. The pass arrived and Chhangte slid in the equaliser with his weaker right foot.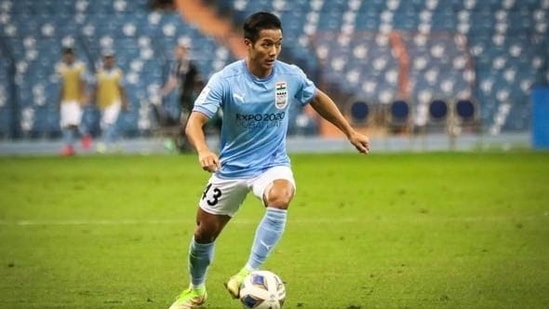 It was fitting that the two wide players, Singh and Chhangte, so crucial to Mumbai City FC's record unbeaten run, had orchestrated the goal. But this happened when Chhangte, having vacated his usual place on the right flank to Vikram Pratap Singh, had moved to the centre. "It is an additional aspect to his game," said Igor Stimac. He has speed, he can score and play everywhere in the forward line, said the India head coach over the phone from his home in Split, Croatia, after Friday's game.
Chhangte followed the goal with a pass for Vikram Pratap Singh that became an assist because a delivery meant to hang at the far post looped over Jamshedpur FC goalkeeper TP Rehenesh. As Mumbai City FC notched up their 13th win in 16 rounds, Chhangte collected his fourth hero-of-the-match award.
With nine goals and five assists, Chhangte is in line for the ISL Golden Ball. Only teammate Jorge Diaz has better numbers (10 goals and six assists). It's been some turnaround from one goal and one assist last term.
So, what changed for a player who would do the difficult thing of getting in position but not convert the chance he had created with his spatial awareness? "I think it's a blessing from God," said Chhangte.
Lallianzuala means someone destined for big things. Chhangte said he recently found that out from his grandfather who named him. But if he is living up to his name it is also because Chhangte said he takes better decisions now. "While on the ball, I don't look for too many options. The coach (Des Buckingham) told me to have one target and go with your instinct."
It's taken "lots of hard work". That includes hours of video analysis, he said in a Zoom call from Jamshedpur. "About how well can I get into the box and how can I get the shooting right. The coaches have helped and the analysis has helped. As has working on finishing separately after every training session."
Chhangte, 25, sets great store by the training ground hours. "From the start of my journey, I knew that I was not the most talented but I also knew what I had to do: get up before others, do more gym than others." This came up when he was speaking about leaving home in Lunglei, Mizoram, and moving to an academy in Pune in 2014.
"The day I decided to go to Pune, I was alone. When I reached Pune, I remember being a bit scared. The players were so big and strong. I was one of the smallest," he said.
Loaned to NorthEast United in 2016, Chhangte moved to Delhi Dynamos (now Odisha FC) before three seasons at Chennaiyin FC from 2019. It wasn't the best of starts but from being at the bottom of the standings, Chhenaiyin FC zoomed into the play-off on the back of a strong second half of the season. Owen Coyle had come in as coach replacing John Gregory and as the team soared, so did Chhangte. He scored seven goals, his best in ISL before this term.
"Owen will like anyone who leaves everything on the training ground. That suited me well. He put his trust in me and when a coach does that, you want to put in extra effort. I think I did that," said Chhangte.
The goals began to dry up after Coyle left. Yet, Mumbai City FC had seen enough to take him on loan in 2022. Again, it wasn't the best of starts as Mumbai City FC finished fifth in 2021-22. Again, Chhangte doubled down on his favourite four-letter word: work. "There has to be a time when you need to build yourself; you need to suffer. That happened to me over the past few years. It got me to reflect on myself and work really hard. The work I put in in the seasons that didn't go well got me to this position where I can impact games," he said.
'Needed to play Durand Cup'
What also helped was a good pre-season. For Chhangte that began when "we played the Asian Champions League." In the break after the Asian Champions League (where Mumbai City became the first Indian team to win in the revamped competition), Chhangte trained with Jeje Lalpekhlua, the bulldozer of an India striker whose career got waylaid by injury, in Mizoram. "Then we assembled for the pre-season in Dubai. We worked really hard there, two sessions a day," he said.
Mumbai City FC's first competition in 2022-23 was the season-opening Durand Cup where they finished runners-up to Bengaluru FC with Chhangte scoring seven goals in seven games. "To be honest, the three-and-a-half week pre-season by itself would not have been sufficient. We needed competitive games, one with a cup as target to get ready for the ISL. Initially, we were struggling to know each other but with games that changed."
At the moment, Chhangte is the most effective Indian in ISL, said Stimac. "He has always been part of the set-up but last season there were players such as Manvir Singh who were doing better."
That could mean a return to the India team for the March friendlies at home after missing the Asian Cup qualifiers last year due to injury. "I think the most important thing is to keep performing like this. Then we will see," said Chhangte.
Ignored for the 2019 Asian Cup, Chhangte trialled twice at a Norwegian club. It didn't work out but Stimac said it showed he is unfazed by new challenges. "Hopefully, we can get him to fulfil his dreams," said the India coach. One of them is playing the 2023 Asian Cup finals.
Topics