Dilpreet, Lalit and Indian hockey's tale of second chances
Avishek Roy and Sharad Deep
Jun 29, 2021 08:49 PM IST
One had to rein in his temper and the other regain his reputation--together they will spearhead India' bid for medal after 41 years
The Olympics for most athletes is a once in a lifetime chance, and the pandemic has only added to that anxiety ahead of next month's Tokyo Games. India's hockey players, once kings of the game now seeking to reclaim their position, will understand.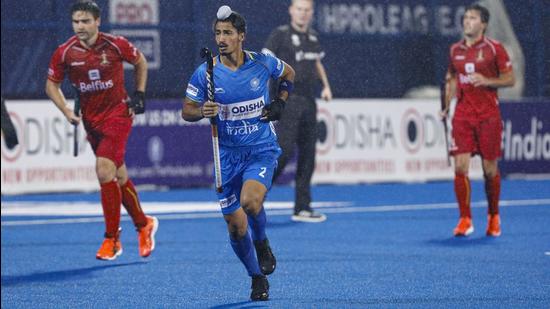 For Dilpreet Singh and Lalit Upadhyay, key members of a young frontline in that team chasing Olympic redemption, it will also be about second chances in life. Eight-time champions India have not won a medal since the 1980 Moscow Olympics win, but the two could easily not have been part of the adventure.
Stay tuned with breaking news on HT Channel on Facebook.
Join Now
Dilpreet, 21, among the youngest and most skilful in Graham Reid's squad, lurched on the edge of an abyss before anger management lessons pulled him back. Lalit Upadhyay, 27, a versatile fellow forward, can empathise. A TV sting in 2008 almost dashed Upadhyay's senior India dream.
Dilpreet will never forget that awful moment when he hurled a mouthful at Amit Rohidas—seven years his senior—in a training session for fumbling with the ball. Rohidas walked away, and though Dilpreet later apologised, the damage was done.
Also read | Lack of games not a worry for captain Manpreet and coach Reid ahead of Olympics
Already on notice from the team management for his outbursts, the incident in early 2019 was the tipping point. Dilpreet was axed, and told to work on his attitude and fitness with the junior squad.
Coming from a sporting family in Amritsar, a hockey hub like Upadhyay's Varanasi, Dilpreet saw his Tokyo Olympics dream crumbling. But he addressed his temperament and fitness thanks to junior India coach, Jude Felix, a former national team captain, and team manager BJ Kariappa.
A year later, he regained his India spot. Much calmer and a team player—an attribute Reid stressed in selecting the squad—Dilpreet can now hope to fulfil the Olympic dream of his late grandfather Gurnam Singh, who was an India long jumper, and father Balwinder Singh, who was a national level hockey player.
Dilpreet had everything going. As a 19-year-old he had already played in major internationals—the 2018 Commonwealth Games, Asian Games (bronze), Champions Trophy (silver) and the World Cup at home. "I was the junior most in that team. My fitness was not that good. I was doing extra work with trainers to bring my fitness level up and I managed to impress with my performances. Then I lost everything. I was dropped," he says.
"How would you feel when you get everything in such a short time and suddenly find yourself out of the squad? The seniors and juniors trained in the same place. I would feel so bad thinking that just a few days back I was at the other side and now I am here.
"I was a lot emotional from the beginning of my playing days in my village (Butala). When I expect certain things from my teammates and they do not do it, I used to feel frustrated. Gussa bahut aata tha aur kuch na kuch bol deta tha (I used to get very angry and say whatever came to my mind). That it was not good for me and my game, I realised later," he says.
Felix knew Dilpreet was a special talent from the moment he first saw him among 65 players at a junior selection trials of 2017. Felix even fought with the selectors to pick him, and later keep him in the team.
"He is one of the most brilliant youngsters I have seen; a very intelligent boy; has good ball control. He has intricate skills, and he learns and brings it to the match… For a player like him, you should know how to get the best out of him on the pitch, regardless of his problems."
Dilpreet burst into the junior team in 2017 at the U-21 Sultan of Johor Cup in Malaysia. He ended the top scorer with nine goals in six matches. Within months, he was in the senior team.
"He doesn't like to lose and would try and start correcting others if he didn't get a pass or if someone was not playing up to his expectation," says Felix. He had warned him to calm down, and now back with him, Felix told Dilpreet to strictly focus on his game, and also to work with a mental trainer.
Dilpreet's calmer version returned at the same Sultan of Johor Cup where his India career had taken off. Reid was impressed, including him in the senior core group and then in the squad for the FIH Pro League matches in January 2020.
"My grandfather had told me that going to the Olympics is the biggest thing for a player. He is no more, I wish he was there to see me play in Tokyo," says Dilpreet, his voice choking.
Also read | Lalit Upadhyay confident of Indian hockey's podium finish at Tokyo Olympics
Growing up in Varanasi, Upadhyay watched his brother play hockey and heard the deeds of the late Mohammad Shahid, the Varanasi-born player with dazzling stick work who was integral to India for many years, including the Moscow Olympics.
"Varanasi ke ek bête Shahid ne tab kiya tha, aur wahi kaam ab main karna chahta hoon (What Shahid, the son of Varanasi, did for India then, I want to do now)," Upadhyay says.
The TV sting though almost derailed the rising junior India player. Journalists from a TV channel posing as agents offered the then hockey federation secretary a sponsorship deal if a Uttar Pradesh player was selected in the national team. When he asked who the player was they name Upadhyay.
The federation secretary was sacked while Upadhyay faced accusations of trying to buy his way into the team. It discouraged selectors from considering him. "Those were tough days; I was framed in that incident. I kept mum for a few months, but stayed focused on my target. I was on the verge of quitting hockey but my family was my support system. They said "if you leave, people will think you did wrong"," he says.
Upadhyay's situation changed dramatically after he got a call from former India hockey captain Dhanraj Pillay. "He was impressed with my game and offered a contract to play for Air India. It was dream come true. It changed my life. I was voted 'Rookie of the Year' at World Series Hockey in 2012."
Upadhyay finally made his senior India debut in 2014. He played in that year's World Cup. He has been a regular since then, featuring in the 2016 and 2018 Asian Champions Trophy wins and in the 2017 Asia Cup. He was also in the bronze-winning 2018 Jakarta Asian Games team.
Last year, India made their FIH Pro League debut by winning both legs over world No.3 Netherlands. Upadhyay scored two goals and was adjudged 'Man of the Match' in the first.
Bonding among players is the biggest factor in the team's rise, he says. "It's the latest mantra of the coach—stay positive and always do positive communication."